How can you keep kids entertained at the beach?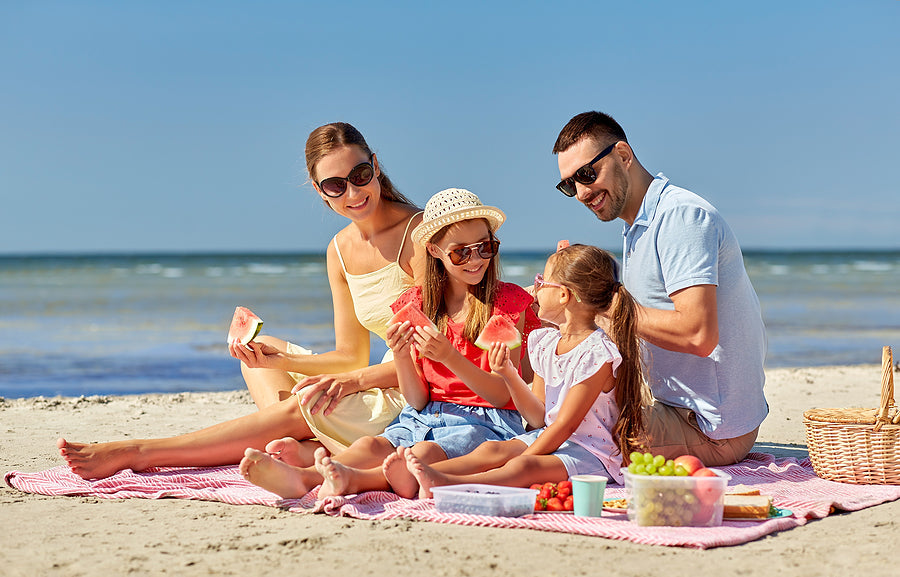 As an island nation, Australia is quite literally surrounded by beaches.
If you ask us, this is a blessing, especially for parents - coming up with summer activities is an absolute piece of cake. If you're ever short on ideas, the beach is right there, calling to you.
Not only does it make planning easier, but the great thing about the beach is that it creates its own fun.
Whether it's splashing around in the shallows or building works of art out of sand, you could get away with very little planning for a fun day out at the beach.
Of course, that doesn't mean that you shouldn't plan extra activities to keep the kids occupied, particularly when their cries of "I'm bored" begin...
How do you keep kids entertained at the beach?
One of the best things about beach trips is how freeform they are.
That said however, a little bit of structure and planning can go a long way towards making your day run more smoothly!
On top of planning drinks and snacks, it's important that you think about what activities you're going to include in your itinerary.
Obviously, you're going to want to bring all the beach gear you need for the classics like sandcastle-building - however, that's not all you can do. There's a whole world of other activities you could be doing at the beach.
Looking for ideas? We've got some good starters…
Don't forget the classics
They're called classics for a reason: they're sure to be hits, regardless of how old your kids are.
Building sandcastles, beach cricket, burying their parents or siblings in the sand - these are all activities that you did when you were a kid yourself. These activities transcend generations, making them a great introduction for your upcoming beach trip.
Why are we bringing them up here? For two reasons:
To give you a starting point for your beach planning

To let you know about the importance of having the right gear
Brands like Green Toys Australia strive to minimise their impact on the environment, with products that are:
BPA and PVC-free

Ocean-friendly

Made of recycled materials

Built tough so they last multiple summers
Whether you buy a beach toy watering can, Green Toys sand play set or the Green Toys Tide Pool bath set, you know you're getting a solid product that'll help your kids enjoy multiple summers.
What other water activities can we do? 
From swimming, to diving off the pier, to splashing around in the shallows, the water offers plenty of fun activities for the young - and the young-at-heart.
A lot of parents just let their kids go wild in the water, letting them make their own fun (while keeping a close eye on them, naturally).
Swimming and splashing around in the surf aren't the only things you can do in the water, however - with the right gear, you can turn the ocean from your personal swimming pool into much more.
There's a reason we keep on spruiking the Waboba Ball. This is no ordinary beach ball - this clever range of balls is designed to bounce off water as if it were solid.
And that means that these balls can be used for all sorts of games and activities that would be impossible with a traditional beach ball.
Looking for something a bit more unique or challenging? Paddleboarding and red paddle ride 10.8 might be just what you're looking for (click here to learn how to buy your first stand-up paddleboard).
What to do at the beach if you can't swim
Adults have plenty of alternate activities while they're at the beach.
Working on their tan, finishing that book they've been meaning to get around to, enjoying some good music while they soak in the atmosphere… we've got plenty of alternatives.
But what about kids?
Younger kids especially might not be able to swim just yet - what can you do with them outside of the water?
Luckily, there are plenty of options:
Building sand castles

Sitting under the shade (with an icy pole in hand!)

Games like beach cricket

Wading in shallows
In addition to buying dedicated beach toys, you can also buy beach floats so your kids can enjoy the water even if their swimming skills aren't fully-formed yet.
In addition to personal floats, our online beach shop also stocks multi-person floats like our Unicorn float so you can all chill together - it even has a built-in cooler for drinks.
What can you do at the beach at night?
Australia isn't just well-known for its beaches - we're also world-renowned for our blisteringly hot summers.
So it's too hot to go to the beach while the sun's out. However, that doesn't mean that you can't go out once the sun sets - of course, going out at night means different activities!
For example, consider subbing out swimming and tanning for a relaxing walk with the family to catch the sunset (as well as some great pictures for your Insta). Another idea is to have a beach picnic at dusk.
There's a lot you can do at the beach once the sun goes down. Just remember that after-dark beach visits are less about playing, and more about soaking in the atmosphere - so this activity might be best for older kids.
Of course, it isn't just families that can head out to the beach after-hours…
What can couples do at the beach?
So one of your travel companions has volunteered to look after all the kids, giving you two a bit of private time.
Either way, now it's just you, your S/O and the beach - what now?
Luckily for you, we've got some ideas:
Romantic nighttime beach strolls

Beach picnics

Sipping delicious cocktails as you watch the sunset
While it's mainly a place for fun, the beach can also be surprisingly romantic (we love long walks by the beach…)
How to have fun at the beach: start by refreshing your beach gear with Boatshed7's online beach shop!
Of course, that doesn't mean that you can't do a little bit of planning prior to your beach outing!
A simple plan or outline can help get the ball rolling once you're at the beach, keeping people of all ages amused, entertained, and occupied.
Not only that, but it also ensures that your beach ensemble is ready to go before your trip kicks off!
From beach essentials like Klaoos umbrellas and towels, to kids' beach accessories like Bling2o goggles, to things for the adults like beach wine stakes, we've got everything you need for summer.
Not only that, but each item we stock is carefully chosen to be environmentally-friendly, durable and stylish!