Find the best beach towels for summer at Boatshed7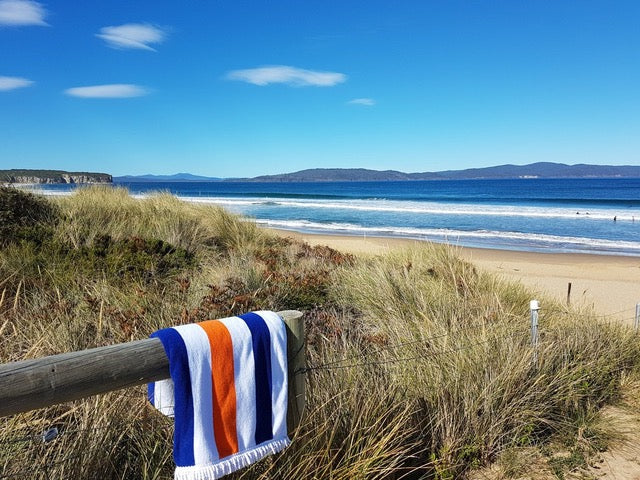 Now that beach season is fast approaching, everyone is on the lookout for the best beach towels Australia has. 
After all, if you're looking to get the best beach gear, then it all starts with the perfect towel.
There are so many aspects to buying the perfect beach towel: who is it for? What colour or pattern do you want? How is the beach towel going to be used?
Are you shopping for a passionate surfer? Or for someone who just likes to have a little fun in the sun?
That's why we've put together a short list of everything you need to know about buying the perfect towel. 
Get set for your best summer ever with Boatshed7's curated collection of high-end beach gear.
From luxe beach towels and vintage beach umbrellas to awesome stand-up red paddle ride 10.8, we've got everything you need to enjoy time in the sun with friends and family.
How to buy the right beach towel for summer
Is there a difference between a beach towel and a bath towel?
The short answer is yes. 
Size
One of the most obvious differences between a bath towel and a beach towel is size. Many beach towels are simply a lot bigger than their bath counterparts.
So if you're looking for a towel for that friend or family member who loves to stretch out and relax on the sand, you'll want to keep your eye out for a large beach towel.
Thickness
The main purpose of a bath towel is to dry you off after a shower. As such, they're usually plush and more dense, and as such, can take a lot longer to dry.
A beach towel, on the other hand, serves a lot of other purposes.
It acts as a barrier between you and the sand, it dries you off after a dip in the sea, and it gets tossed around the car.
Beach towels are specially designed for portability and their lightweight construction means they'll dry quickly.
Can I use a regular towel at the beach?
Beach towels are also designed to withstand more harsh conditions - think saltwater, sun, and sand. We're not quite sure the humble bath towel would be able to handle the beach!
Best of all, it's easier to shake sand out of a specially designed beach towel, rather than a standard bath towel.
How do I choose a beach towel?
Choosing the best beach towel is subjective - it all comes down to your specific preferences and needs. 
Firstly, think about what you'll be using the towel for. Drying off after an adventurous day out on the surf? Or lazing about by the pool, with a cocktail in one hand and book in the other?
Not sure what you actually want - or what you should be looking for? No worries - here are some of our top picks. 
Mayde towels
We are so excited to introduce you to this Aussie-born brand. 
Premium beach towels available in a range of bold, eye-catching colours and prints - no wonder Mayde towels have grown from strength to strength since their inception just 7 years ago.
Red paddle microfibre towel
A microfibre towel is perfect for anyone who is looking to have endless fun in the water this summer. 
Towels made from microfibre are super absorbent - Red Paddle's microfibre towel can hold up to four times its weight in water - despite this awesome feature, they also dry incredibly quickly. 
It's a very compact towel and can fit into your back pack easily. This towel is ideal for anyone looking for a summer full of adventure. 
Binalong Beach & CO
These gorgeous towels are as luxe as they are stylish. Perfect for those who love to perch themselves on the sand or by the pool, Binalong Beach & CO's soft cotton towels are crafted to the highest quality.
Get the best beach gear to go with your beach towel
Cocooil sunscreen
There's no surviving summer in Australia without a good sunscreen. That's where Cocooil comes into play. 
This cruelty free, trade free, sunscreen is coconut scented and leaves your skin smooth, hydrated, and most importantly, protected from the sun.
Beach umbrella
Spend your summer at the beach in style, while protecting your family from those UV rays at the same time. 
Boatshed7's large range of stylish beach umbrellas like Klaoos beach umbrella will set you and your friends up for a day of great fun. 
Get the best beach towels Australia can offer at Boatshed7
The beach is our happy place - so we've made it our mission to bring chic and high quality beach gear from all over the world to beaches across Australia.
From the adventurer to the sun lover, Boatshed7 has a towel to suit everyone's needs. 
Looking for chic beach gear for your upcoming summer adventures? Shop online now - start with our most popular collections.