What snacks should you pack for a beach picnic?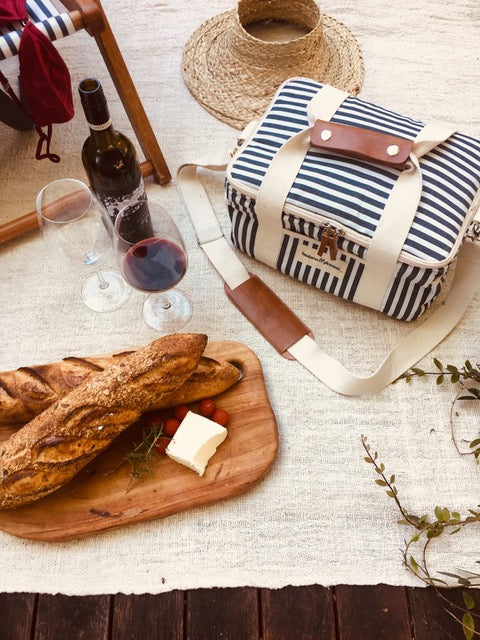 There are a few essentials you must bring with you on every beach trip. Typical gear like a beach towel, sunglasses, and a pair of thongs are a staple of your beach ensemble.
Something else that you'll probably find making its way onto your packing list? The best foods to bring to the beach.
Prevent rumbling tummies and grumpy kids with these simple tips for bringing food, snacks, and drinks to the beach. 
It's going to be hot, so you probably don't want anything too heavy. Having said that, there's no denying a few hours out by the sea can leave you feeling peckish.
The best thing about each snack idea listed below is that with a little bit of preparation before you head to the sea, your snacks are ready to go as soon as you feel that first pang of hunger.
Kid-approved, healthy, and easy - what's not to love?
Easy beach food
Sandwiches
So easy, versatile, and delicious - sandwiches with a variety of fillings will fill the stomachs of even the pickiest eaters. 
Whether you use sliced bread, rolls, or baguettes, the humble sandwich is a sure-fire crowd pleaser. 
Assorted nuts
We all know how easy it is to snack on the beach - even if we're not particularly hungry.
So make a conscious decision to pack healthier snacks for the times we find ourselves aimlessly snacking. 
You can buy pre-made mixes or create your own trail mix with raw pumpkin needs, almonds, cashews, and dried fruit. 
Fruit
Nothing says summer more than fresh, juicy fruit by the sea.
Best of all, it tastes delicious and will help to keep you hydrated.
Watermelon slices, grapes, plums, oranges, apples, bananas, berries - the list truly does go on and on. 
Boiled eggs
Easy to prepare, and easy to eat! Simply boil, peel, and pack - and don't forget to pack a knife to split them in half.
Boiled eggs are super filling and will keep tummies satisfied. 
The best beach snacks are easy to pack and eat
You'll  notice each of these food ideas has the following in common:
They can be eaten cold - no heating required

Easy to eat - no plates or cutlery needed

Limited packaging - easy to take rubbish home with you

Better yet, pack everything in reusable containers

Ready to go - no additional prep is needed at the beach, so all you need to do is dive right in 
What you'll need when you bring food to the beach
A cooler or esky
One of the biggest challenges of packing food for the beach is keeping it cool.
While everything else on the beach is heating up, your drinks and snacks will keep their cool in a durable and high quality beach esky. 
We love Business & Pleasure Co.'s vintage yellow premium cooler bag, while the 18L Red Paddle Premium cooler can preserve ice for up to 72 hours.
Glasses
Many beaches prohibit glass, so make sure you pack right!
Want the look of glass without the risk of breakage?
This handy 4-pack from Social Drinkware ensures you can comfortably sip your drinks in style, without the risk.
Made from PET plastic, these tumblers are durable, high quality, and superior to other products in the market.
A drink bottle
Staying hydrated in higher temperatures while on the beach is a must.
Make sure to pack a ton of water - ideally a large bottle for each member of the family, and consider freezing a few extras.
This will not only help keep your food cool, but as the day goes on and the water starts to melt, you've got extra water to pass around. 
And if you'll be drinking alcohol, we suggest plenty of water between drinks.
Hand sanitiser
Particularly after the year we've had, nothing is more important than hygiene and food safety.
Ensure you've got plenty of hand sanitiser and wet wipes packed to wipe down kids' hands before they indulge in their lunch. Put them in a matador backpack for easy get-to-go.
Table cloth
While you might not be seated at the table, it's still a good idea to bring along a lightweight table cloth to lay out your food. A spare towel can also do the trick.
Your turn!
What's your favourite food to pack for a day at the beach? We'd love to hear all your ideas and secret tips! Share them with us via our Instagram page.