Sun, sand, and sea: explore our sustainable beach toys for kids!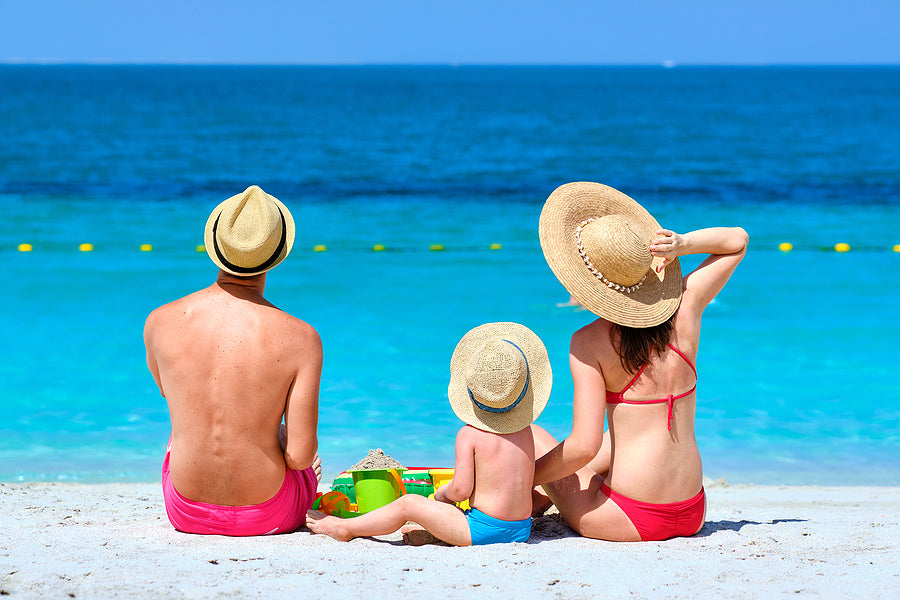 Your cheap plastic beach toys could be poisoning our oceans!
Now that we've got your attention, let's talk sustainable beach toys for kids.
In the rush to prepare for summer and stock up on beach essentials, a lot of us don't really slow down and think about what we're taking to the beach with us.
It's all too common for us to accidentally overlook the important information on the packaging.
Next time you go beach shopping, make sure you're filling your cart up with beach toys (and towels, sunscreen, and beach umbrellas) that are sustainably made, and great for the planet!
The problem with cheap beach toys for kids
Simply put, a lot of the stuff you'll find populating department store shelves is cheap, nasty, and horrible for the environment, using all sorts of unsustainable processes and materials.
And in most cases, the cheap stuff is brittle. They have short lifespans and quickly start wearing out under the pressure of saltwater and rough play.
And when that happens:
They need to be thrown out - a problem since most aren't recyclable

They can end up in landfill

Fragments can break off into the water, where it might join the

millions of tonnes of plastic waste

They can release harmful toxins like BPA into the ocean
The worst part is that since they're so flimsy and cheap, it means you'll have to go on yet another shopping trip to stock up on more plastic junk!
None of these outcomes are particularly good for the environment.
Luckily, our range of eco-friendly, sustainable beach toys can help you break the cycle.
Each of our beach toy brands is chosen for its...
Durability and toughness
Kids play rough with their toys. Just ask any parent how many toys they have to "retire" each year and you realise how quickly this can add up.
Of course, it's not just your hip pocket that the constant churn of toys coming in and out can affect - burning through so many toys so quickly can also affect the environment.
On top of ending up in landfill, cheap toys often break after a single day at the beach, with little pieces and fragments drifting off into the water and contributing to ocean pollution.
Worse, they can even be swallowed by unsuspecting ocean life.
At Boatshed7, we're proud to stock only tough and durable beach toys that won't break after a single day out at the beach.
We choose brands from all over the world that have passed the "play test" - you can be confident that our products will last more than just a summer!
BPA-free construction
BPA - three letters that we know are bad for our kids' health.
What you might not have known is that BPA can also have a negative environmental impact too!
For those who aren't in the loop, BPA is an industrial chemical that's found in many cheap plastics. It's just about everywhere - and that's exactly what makes it so insidious.
Over time, plastic can break down, causing BPA to "bleed" out of the plastic and result in a range of potential health problems.
Add UV light and salt water to the mix - two things that are in large supply at the beach - and it quickly becomes clear that toys with BPA can pose a major threat to our ecosystem.
One of the first things we ask when looking at products to add to our online beach shop is whether they are BPA-free.
Not only is this material better for the little ones, but it also reduces your impact on the environment!
Innovation, creativity and plain old fun!
It's important to us that our range of fun beach toys is environmentally friendly - however, it's even more important that they're bright, colourful, and loved by kids of all ages!
When choosing toys to add to our online beach shop, we want to be wowed.
If we look at a toy and think, "I wish we had that when we were kids!" then it passes the "cool" test and will promptly make its way into our catalogue!
We love introducing kids (and their parents!) to sustainable and high-quality toys that stimulate creativity and bring something new to the table.

How we choose our beach toy brands
A lot of beach retailers choose their stock from a catalogue or a wholesaler's product list.
All they have to work off is a general description of the product and its price - nothing about its construction, features or materials.
We think that seeing is believing - we won't sell anything until we've seen it for ourselves.
That's why our team personally vets every beach toy we're thinking of selling before deciding whether or not to stock it:
We meet with suppliers and talk directly to company founders

Where possible, we'll visit factories to get a feel for our suppliers

We check the product information to make sure it's free of BPA and other harmful chemicals

Finally, we'll give the products a "test drive" for ourselves (it's for work purposes, honest!)
Only toys that align with our ethos will make it into our catalogue! That way, you can be confident that your kids are playing with water toys that are environmentally friendly and sustainably crafted.
Better yet, you'll be supporting small businesses.
Each of the brands we carry are either locally based, or boutique manufacturers from around the world who are making a real effort to reduce their effects on our environment.
From hand-made sunglasses, cocooil to beach floats imported directly from fashion-forward French beaches, find beach gear and accessories that will turn heads on your next beach trip! 
Buy environmentally friendly beach gear in Australia with Boatshed7!
Buying sustainable beach gear is no longer a challenge, thanks to Boatshed7! 
Our online beach shop has done all the hard work for you, allowing you to build a beach ensemble that will command attention and delight your little ones!
From beach toys for kids to big ticket items like our seriously impressive beach floats, Klaoos beach umbrella, or lightweight sling beach chairs we've got everything you need for a perfect day out at the beach.
Get set for your best Australian summer with Boatshed7 - click here to shop now!