Last-minute gifts: 12 stocking-stuffers for summer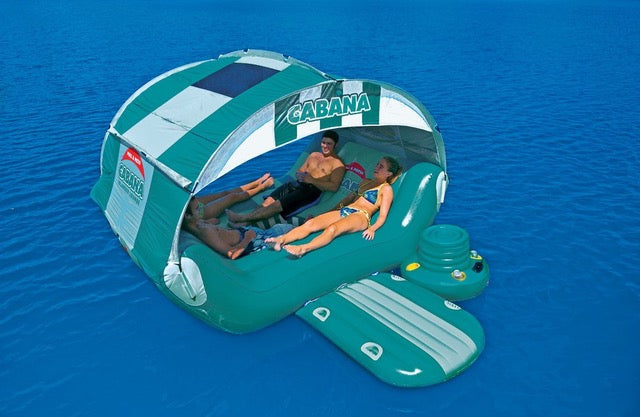 Christmas is right around the corner, and for Aussies that means one thing: beach season. 
With the hot weather fast approaching, most of us probably have plans for lazy days at the beach on our minds.
A lot of us are also probably stressing about those last-minute Christmas presents.
Here's an idea: why not combine the two together?
If you ask us, we Aussies have it good when it comes to Christmas - with everyone looking to stock up on beach essentials so that they can have the perfect summer, you've got a huge pool of ideas to draw from right there.
With so many options that could make the perfect beach gift, how do you choose the right beach gift for that special person?
What should you get someone who loves the beach?
If you're trying to buy the perfect beach gift, you need to think about who you're buying for.

What makes the perfect beach day for your dad? Your partner? Or your sister?
Here are some of our favourite things (and most popular items) to put underneath the Christmas tree...
1) Beach towels
Beach towels are the kind of essential that every beachgoer will need.
Despite that, the vast majority of people are still using beach towels that:
Don't look good

Trap sand and are hard to wash

Fade very quickly
So what better place to start?
The key to buying the perfect beach towel is determining what the beach towel is going to be used for.
That may sound a little silly, but different people do use their towels differently. 
Are you buying a towel for your aunt, who likes to read a book on the beach and work on her tan? She might like a large, soft towel: perfect for spending a day on the sand. 
Or if you're buying a towel for your adventurous cousin, you might want a super absorbent towel. It'll be perfect for soaking up the beach water after they've spent the day in the surf.
Whatever you're looking for, our online beach shop has a huge range of towels.
2) Red Paddle Co products - a sure hit come Christmas
If you're looking for presents guaranteed to deliver that wow-factor come Christmas morning, you can't go past Red Paddle Co.
Created by professional windsurfer John Hibbard, this beach brand has since expanded beyond SUP gear into beach accessories and gear.
Thanks to its impressive pedigree, you can be confident that everything you buy from this brand is tough and beach-ready.
With a wide range of different products available like red paddle ride 10.8, you'll find something that's just right here...
3) Microfibre towel
A microfibre towel is perfect for your adventurous family member or friend. 
This towel will soak up four times its own weight in water.
Better still, because it is made of microfibre it will also dry very quickly, making it a great gift for people who love to spend time in the water.
4) Stainless steel water bottle
Spending a day in the hot sun, while relaxing, can also result in dehydration.
Red Paddle's stainless steel water bottles help you stay hydrated, while also keeping your water cool.
We love a practical gift idea with a conscience - say goodbye to single use plastic with a drink bottle that will be used again and again.
5) Beach floats 
Whether you're headed to the beach this summer, or spending the hottest season by the family pool, a beach float is the perfect way to relax in the water.
In addition to individual beach floats, our online beach shop offers a range of eye-catching floats that support multiple people - great choices if you're heading down to the beach, lake, or river with a group.
6) Giant inflatable flamingo
When we say 'giant', we mean it...
If you're looking for a beach gift that's just a little bit extra, you can't go past the inflatable flamingo.
This six person float even includes a built in drinks cooler and an anchor. It's the perfect way to spend summer at the lake or chill out on the water with a few mates.
7) Beach toys - the perfect gift for kids who love the beach
If you're buying for kids, then you're going to want to put beach toys on your list.
Our range of beach toys aren't the cheap, low-quality items you'll find in your local department store - not only are they fun, but they're also built tough, ready for years of hard play in the water or sand.
8) Waboba ball
There's no better way to spend time together as a family than with a Waboba ball.
What makes this ball different? Simple: it bounces on water.
This opens up a whole world of new beach games and activities. With the choice of the tennis ball-sized Waboba Water Ball to the Waboba beach soccer ball, these balls make for a great gift idea.
9) Green toys
Give an environmentally friendly gift this year with toys from world-famous brand Green Toys. 
From dump truck toys, to beach water cans, and small tug boats, Boatshed7 is proud to house Green Toys products, each of which is:
BPA-free

Made of recycled materials

Durable and tough
And most importantly, they'll provide endless hours of fun!
10) Beach gift ideas for him
Whether it's your dad, your uncle or your brother, they're going to love the following beach-themed gifts. Not only are they stylish, but they're also extremely practical.
Looking for beach gift ideas for him? Try the matador backpack. We also got some ideas to get the ball rolling...
11) Cooler bags
No summer outing is complete without the perfect cool drink to end the day with.
Just one problem: it's hot, and the drinks you brought with you are decidedly not cold and refreshing.
Maybe your family is going fishing this summer. Or maybe you're headed to the beach to go surfing.
Either way, a cooler bag is an essential. It'll keep your drinks cool, but at the same time, they're lightweight and easy to carry around.
12) Wheeled eskies
Preparing to feed a crew of kids at the beach? Want to bring along a ton of refreshing drinks to enjoy in the sun?
With its rugged construction and 56L capacity, the Rovr 60 wheeled cooler is guaranteed to become a summer staple for years to come.
Christmas is fast approaching - so click here to start shopping.