Heading to the beach with baby? Here's what you'll need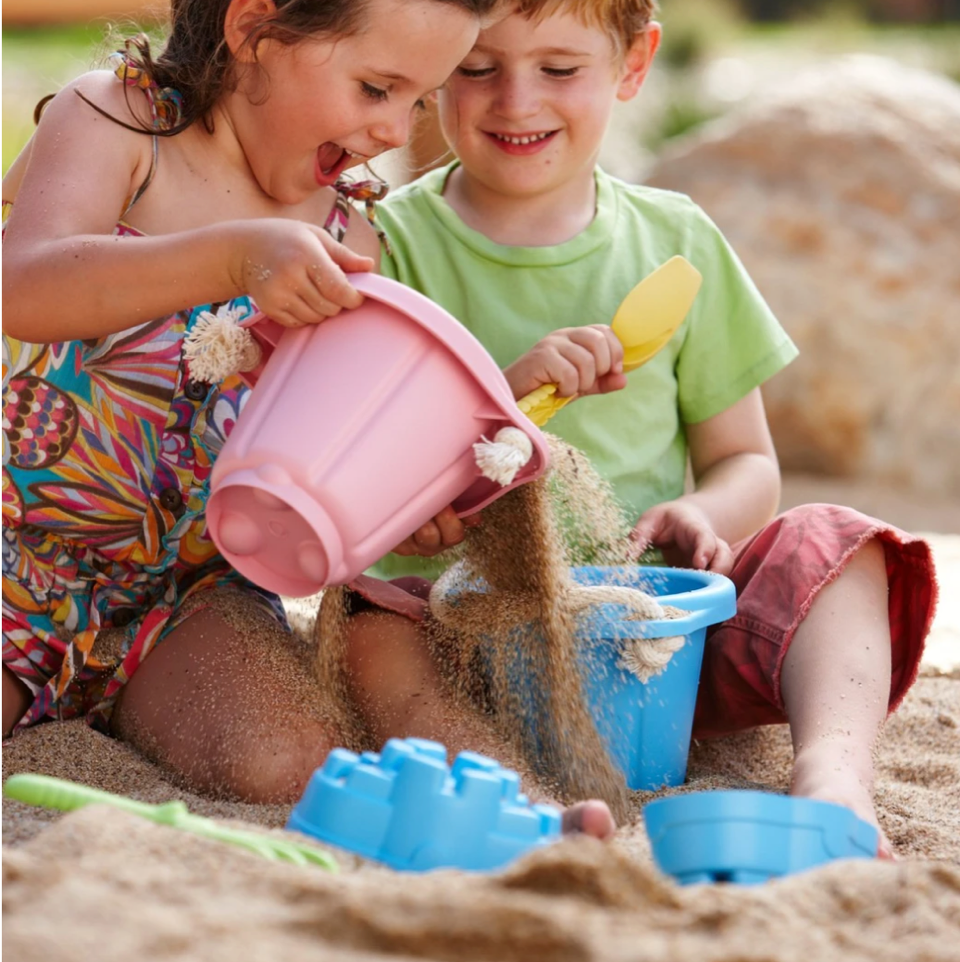 Like taking their first steps or having their first birthday, taking your baby to the beach for the first time can be a significant moment in their life - as well as yours.
Looking out at the ocean for the first time and experiencing sand and salt water can be an amazing experience, no matter your age.
Each time you take your little one to the beach, it's almost like a first time for them, as all their senses are awakened from the warm sand, splash of water, and new adventures that await!
Planning a beach day out with baby? Make sure you're prepared with the right kids beach accessories for the sand, sun, and water.
When can you bring a baby to the beach?
We suggest speaking to your paediatrician for more expert advice, but in general, it's recommended that parents should wait until baby is at least 6-12 months old before their first beach trip. 
Babies under six months also shouldn't generally wear sunscreen. And we all know the importance of sunscreen, especially at the beach, so you should wait until they're a little older to ensure they have adequate sun protection.
How do I protect my baby from the sun at the beach?
Sunscreen
Sunscreen for kids is essentially the same as regular sunscreen for adults, but we suggest looking out for two important factors when it comes to choosing a product for little ones:
It should offer minimum 30+SPF

If possible, look for a formula for sensitive skin
Some of our favourites on offer include Sunbutter sunscreen, We Are Feel Good's sensitive sunscreen, and Surf Baby's Surf Mud, a toxin-free formula designed specifically for our littlies. 
Additionally, these clever UV stickers from SPOTMYUV change colour to let you know when it's time to reapply sunscreen. 
Beach umbrella
A beach umbrella is a must-have to create a comfortable space on the sand where you can relax and escape the heat of the sun.
We suggest visiting the beach either earlier in the morning or later in the afternoon to avoid the sun's peak heat, however no matter the time of day, a beach umbrella provides instant relief and protection, keeping baby cool and comfortable.
Baby goggles
Goggles can also protect sensitive eyes from the water, sun, and sand. 
Explore the fantastic range of colourful Bling2o goggles, guaranteed to excite your little ones.
Beach blankets
A beach towel or blanket is an essential accessory for every member of the family, including baby.
Dry off after a dip and enjoy a comfortable place to sit and rest during the rest of your beach day.
Searching for a premium quality beach towel? We love the Knotty beach towel range: founded by two Melbourne muims, their collection is colourful, absorbent, and super lightweight.
What do you need to bring a baby or toddler to the beach?
So we've covered the important essentials for sun safety for your baby at the beach, but what about things to keep your little ones entertained?
Ideal beach toys to bring for your baby include buckets and shovel sets, snorkels, and other cool toys and play sets.
Beach toys are fantastic to not only entertain little ones, but the intricate motion required to hold, operate, or otherwise play can also help develop their fine motor skills and improve their hand-eye coordination.
One of our top picks for older toddlers is the Green Toys sand play set that has a bucket, rake, shovel, and sand castle mould, providing hundreds of hours of entertainment and imaginative play!
Green Toys is one of our favourite brands here at Boatshed7. The US brand creates their bright, colourful products using 100% recycled plastic. We're a proud stockist of  Green Toys in Australia. 
Other favourites in the collection include the Green Toys tide pool bath set, water tug boats, frisbees, and beach balls.
Another brand quickly growing in popularity here in Australia is Belgian brand Quut.
Already making its mark across Europe and the UK this summer, we love the beach balls, throwing discs, and sand moulds that have been ergonomically designed for kids.
Can I take my baby in the water at the beach?
There are lots of precautions to take before you take your baby into the water. Young babies don't regulate temperatures as well as adults so it's important the water and air temperature are not too cold.
It is also ideal that your baby gets used to bath or pool water before taking them to the beach.
A great way to do this is by introducing an inflatable pool to your backyard. Pool Buoy's premium inflatable pools are not only crafted to the highest standards, but look beautiful too. 
Salt water can actually be beneficial and help prevent infections but it's always best to talk to your doctor if you're unsure if you or your baby are ready for the water.
What should my baby wear to the beach?
Use a baby swimsuit crafted from fabrics that help reduce UV light penetration, and add a rash vest on top to ensure as much of baby's skin is covered and protected from the sun.
If they're staying out of the water, consider layering light, breathable fabrics.
Add a hat and a pair of kids' sunglasses, and baby will be one chic beach goer!
Other essentials include:
Nappy cream for chafing

Swim nappies and regular nappies

A mat to protect baby from the sand
Where can I get toys and items for my baby at the beach?
Boatshed7 offers a range of beach toys, games, and accessories for all ages
Boatshed7 offers a brilliant range of beach toys for babies, childrens and teens, each carefully curated to ensure the products we offer are sustainably crafted, manufactured to the highest quality, and built to last!