How to have a relaxing beach day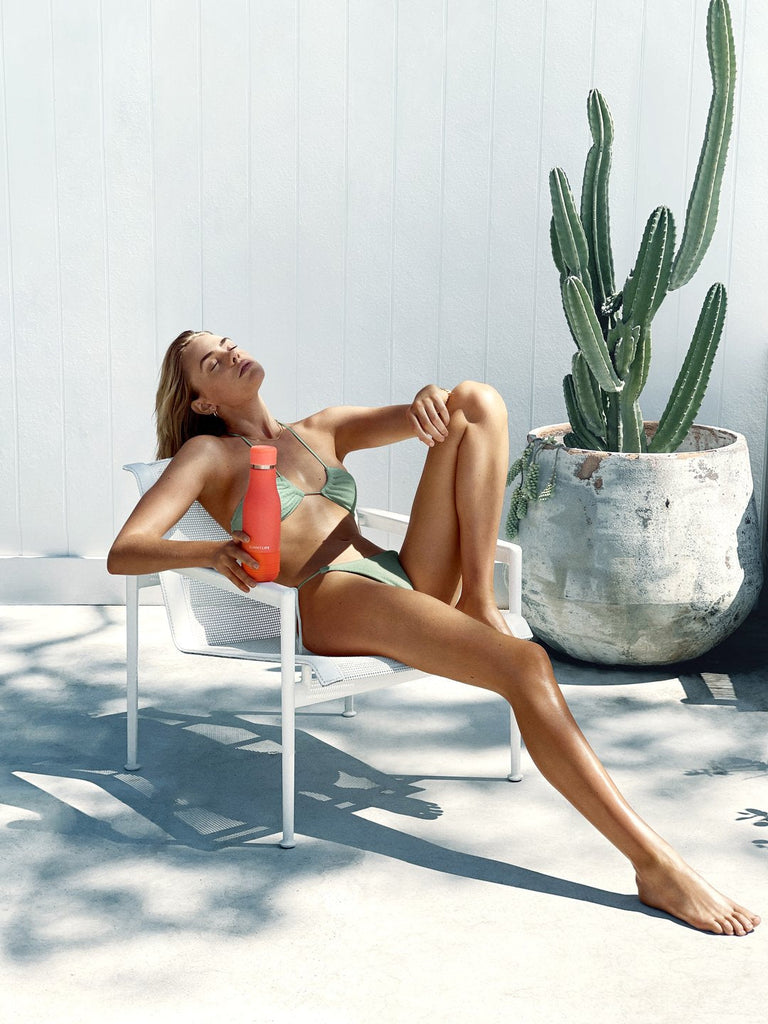 If you're looking to have a relaxing day out somewhere by yourself, the beach is the perfect option.
It's common for beach-goers to go alone for yoga, to walk the dog, or simply lie down and kick back on the sand.
The beach is a natural, calming, and free entertainment venue that everyone should enjoy once in a while, especially considering the variety of beautiful beaches there are in Australia.
And sometimes, you just need one of those days - whether it's by yourself or with just one other friend, you're craving a quiet beach day where you can simply relax, enjoy the warmth of the sun, and leave all your worries behind.
What should you not forget to bring to the beach?
It can be frustrating to arrive at the beach, sit down, and get comfortable, only to realise you've forgotten something important.
The best way to avoid these unexpected problems is to plan in advance, and that includes having a handy list of beach essentials to make sure nothing gets forgotten.
Luckily for you, we've prepared one for you!
Protective gear for the sun
The most important thing to bring to the beach, whether you're going by yourself, with friends, or with your family, is protective items that will help shield you from the sun. Your sun protection essentials include:
Clean sunscreen that offers both UVA and UVB protection
The most important of these items is sunscreen. Never buy cheap sunscreen with a low SPF rating. You should always bring the best body sunscreen for the beach, and sunscreen for your face.
Sunscreen is key in preventing sunburns and limiting the chance of cancer growth. You need to make sure you buy sunscreen that offers protection from both UVA and UVB rays.
A beach umbrella that protects you from the sun and looks fantastic, too
If you're staying at the beach all day, we recommend that you bring a tent or a good beach umbrella in Australia, such as a luxury beach cabana, to get ultimate protection.
Other sun protection
You also need to bring sunglasses and a hat. The skin on your face and neck is more delicate than other parts of the body, and as such, can be a sensitive area prone to sunburn and sun damage.
Ensure you protect your eyes, nose, ears, and neck with high quality sunglasses and a protective hat.
A soft, comfortable and stylish beach towel
Your towel acts not only as an essential tool to dry off after a dip in the ocean, but also as a layer of comfort between you and the sand when you're relaxing under the warmth of the sun.
The best beach towels in Australia are not only soft and plush, but also absorbent, quick-drying, and stylish, too.
Entertainment
Even a low-key beach day needs some sort of entertainment.
For a more relaxing day - especially if it's just you - we recommend bringing a good book.
Music is another good source of entertainment for the beach. Whether you bring a small speaker (such as this awesome SunnyLife water bottle and speaker in one!) or your own headphones, music can really help set the scene and escape reality.
And if you'd rather head out onto the water for a little "me time", do so in total style with the Red paddle 10.8. It's roomy enough to take another passenger along, whether that be a friend, kid, or your furry pal.
Finally, if you're planning on staying out for a while, you might need to think about 'future you' - in particular, your hunger. Pack a few snacks and a ton of water, and keep everything cool and fresh in a beach cooler.
What do you need to do before going to the beach?
As we mentioned above, preparation is key to a stress-free and relaxing beach day.
And that can mean gathering all your essentials the night before.
Pack all your beach gear into a waterproof beach bag, such as a Droplet wet bag, so that important items like your phone and wallet don't get wet or damaged.
Before you leave, too, you should apply sunscreen, especially if you're going to be walking to the beach or parking your car a little further away.
Sun exposure begins the moment you set foot outside, so it's important to apply your first layer before you've even left the house, especially on a super hot day.
And remember to top up throughout the day, particularly after swimming or sweating.
Where can I buy beach gear online in Australia?
Boatshed7 is your ultimate online shop for all your beach essentials, gear, and accessories
Curating products from some of the world's best brands, Boatshed7 is your one-stop shop for the coolest, most stylish, and best quality beach gear for every member of the family.
So whether you live in sunny Queensland and need to update your beach accessories as the weather starts to heat up, or live inland in Tasmania and want some water gear for a river or lake trip, you'll find everything you need at Boatshed7!
We deliver across Australia and to more than 250 countries. Start shopping online now.