Essential summer tips: what you need for your next picnic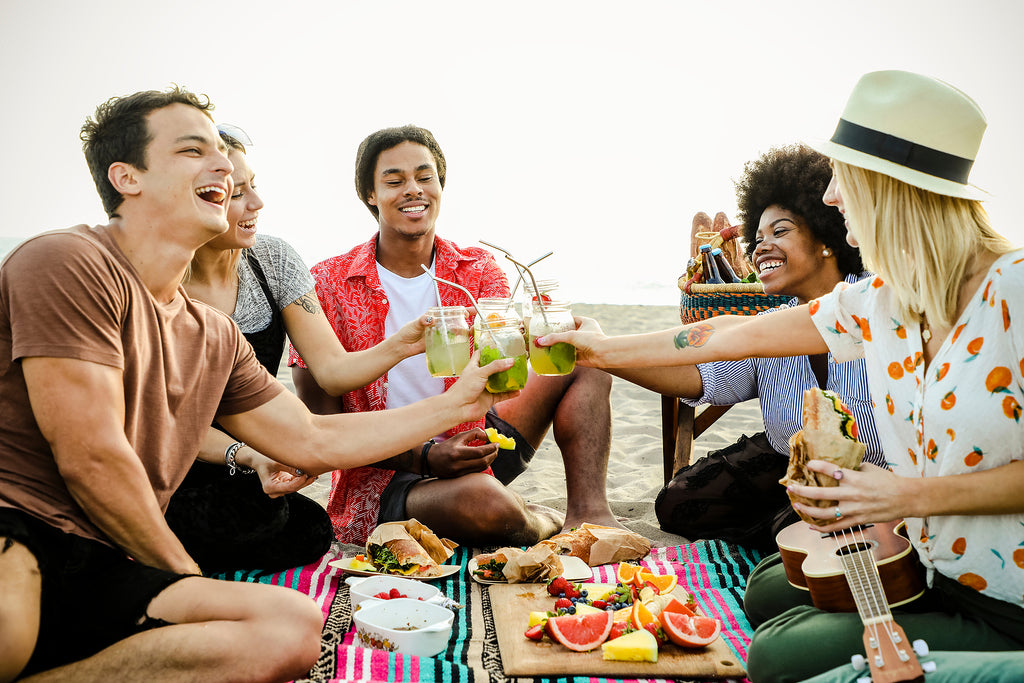 The weather is finally starting to heat up. Summertime is just around the corner.
And that means more time spent outdoors, whether that's at the beach, the holiday house, or simply the local park.
This week we're sharing all the essentials you need for a fantastic day out in the sun.
Just like a trip to the beach, the right plan - and more importantly, the right stuff - is the key to a fun summer picnic.
Picnic essentials
Whether it's a picnic with friends in some beautiful gardens or a beach picnic to end your day in the water, you can't have a picnic without a couple of things first...
Picnic rug or blanket
The first thing you're going to need is a rug or blanket to sprawl out on.
Of course, not any old picnic rug or blanket will do - when choosing one, it's important that you find one that's:
Durable and hard-wearing

Easy to clean

Large enough for the whole gang
Portable, small, and lightweight, our beach blankets are the perfect solution. Keep one in the car at all times.
Bring an esky
While the wicker basket is traditional picnic fare, if you ask us, an esky is much more efficient.
Planning a big picnic with the entire family? The Rovr 60 cooler comes with 56 litres of storage, as well as an in-built ice box and sturdy wheels that let you carry it anywhere.
Best of all, an esky means you can pack all your favourite cheese, dips, and even a couple of beers - and keep everything cool.
Picnic cutlery, plates and cups
While most people default to paper cups and plastic cutlery, we urge you to add reusable cutlery, utensils and cups to your picnic fare.
Not only will it save you money in the long run, but it also means less waste ending up in landfill - a choice we should all be willing to make.
Our Social beach glasses are shaped like wine tumblers and designed to give the look and feel of glass - without the risk of breakage. They're made with strong, BPA-free plastic and are the perfect accompaniment to your picnic or BBQ. 
What else do you need for the perfect picnic?
Bring the tunes
You can't deny the power of a good playlist!
Family-friendly gathering? Pick a picnic-inspired playlist suitable for the little ones and get them involved with lots of singing and dancing.
Older crowd? Choose something more chill and enjoy the warmth of the sun while simply relaxing.
Pack the bluetooth speaker and get everyone in the right mood from the moment they arrive.
Get comfy
Beach chairs aren't just for the beach - you can bring them almost anywhere, including the local park or gardens. 
Fold them up and sling them over your shoulder - durable yet lightweight, these chairs can be transformed from car to land in just a few moments.  
Bring games
Whether you want to work up a sweat with some adventurous and competitive games or would rather work your mind by playing clever card games, it's always a good idea to pack a couple of options to keep everyone entertained.
A few weeks ago, we rounded up some of our favourite beach games - many of which can be easily adapted for the park.
Slip, slop, slap - staying safe from the sun is essential for your picnic planning
Our beach umbrellas protect you from UV rays
While they may block sunlight, not all umbrellas are able to block out UV rays.
In many cases, UV rays can penetrate the materials that cheap umbrellas are made of, leaving you with a nasty sunburn (even though you assume you're covered by the shade.)
Products like our Business and Pleasure umbrellas and french umbrellas are made of UV-blocking materials and feature special treatments that stop UV rays from getting through.
It's these qualities that make them perfect for outdoor activities like trips to the beach or picnics.
Slather on the sunscreen
Choosing a sunscreen isn't always as easy as picking the first bottle that says SPF 50-rated off the supermarket shelf - it's also about ensuring that you get the right sunscreen for your skin.
As we've talked about before, different types of skin react differently to sunscreen. For example:
Oily skin doesn't mix well with heavy sunscreen

Dry skin needs sunscreen that also moisturises

Sensitive skin might be more vulnerable to chemicals in certain types of sunscreen

People with acne should steer clear of oil-based sunscreen
Our range of beach sunscreen like cocooil is carefully chosen not just for their protective power, but their ability to accommodate the widest range of skin types possible, ensuring that you're protected from the sun.
"The
eyes
have it" - don't forget to protect your vision
Want to look chic and protect your eyes?
Our range of beach sunglasses feature UV coatings that block harmful UV rays, protecting not only your eyes, but the sensitive skin surrounding them too.
Packing for a picnic?
We're all about celebrating summer - and the beach is just one part of that.
Summer means good weather, good company, and good times - no matter where you are. 
While we may be a beach shop first and foremost, our awesome collection can be repurposed for your picnic (as well as camping, festivals, road trips… the list goes on.)
Check out our range of beach (or should we say, picnic) essentials - click here to start shopping!