7 unique, creative, and fun beach games for adults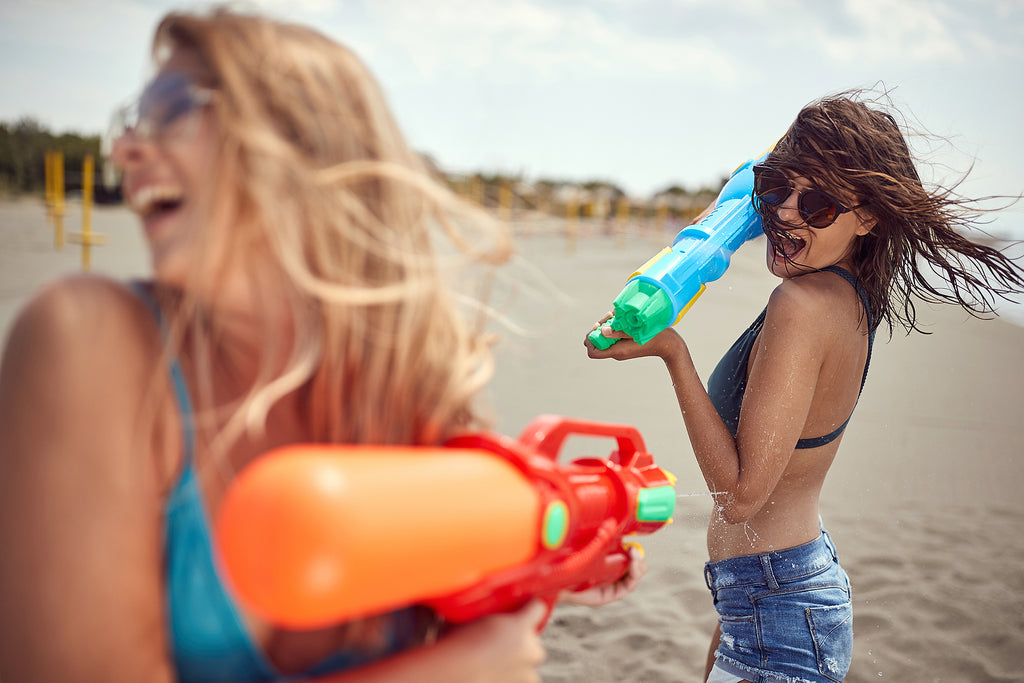 As soon as the weather warms up, the beach begins calling our name.
There isn't much that can make a trip to the beach more enjoyable and energetic than a few good beach games.

And it's not just for the kids, either. Kids and adults alike enjoy playing on the beach, and these games will bring fun to the next level.

Of course, all beaches have sand, so we've created an entire section dedicated to sand games that the entire family can enjoy.

Lying down and catching up on your favourite paperback, working on your tan, nibbling on some picnic food, floating in the shallows or just chilling out - these are just some of the ways you can spend a day at the beach.
If you're into these chilled out activities, that's great. You do you!
If you're looking for something a little more active to do while you're at the beach however, we suggest reading on! Pick up your beach game.
The beach has this funny habit of bringing out everyone's inner child - instead of fighting it, why not embrace it?
If you have different ages in your group, finding a game that can accommodate all skill sets is essential.
Here are some of our favourite beach games and toys - suitable for the big kids!
Beach games are not just for children anymore!
1.Water cricket
What you need

: a beach cricket set, wickets
Number of people

: 5+
Who said you need a pitch to play a game of cricket?
Beach cricket is a summer classic, popular among people of all ages. And it isn't hard to see why - there's nothing more quintessentially Australian than the beach and the cricket. They're a natural match for each other!
This fun beach game is one of the most popular beach activities out there - however, it comes with some quirks. Unless you've found a particularly hard and wet patch of sand, you'll also need to accommodate for the bounce (or lack thereof) by adjusting your bowling technique.
Enter, water cricket!
The Waboba Water Beach Cricket Set lets you take your game of cricket to the shallows, using lightweight balls that are designed to skim and bounce off the water. No need to change your bowling style!
2.Tug-of-war
What you need

: a strong, durable rope
Number of people

: 2+
Simple, timeless and heaps of fun, tug-of-war is the ideal beach game for adults, children and the young-at-heart.
All you need is a patch of sand, some willing participants and something sturdy to pull on!
Divide your group into two teams and ensure they are as evenly matched as possible.
Use a rope or beach towel tied together. Draw a line in the sand and have each team member take positions on either side of the line.
The teams pull with all their might to see who crosses the line first, and they're crowned the winner!
Finally, the soft sand means that when one side inevitably gives way, there won't be any nasty bruises or awkward twists.
3.Ultimate frisbee
What you need

: markers, armbands to distinguish teams (optional), a frisbee (duh)

Number of people

: 6+ (10 ideally)
What do you get when you take netball, touch football and gridiron, throw them into a blender and replace the ball with a frisbee?
Ultimate frisbee, that's what!
If you're a big fan of invasion games, ultimate frisbee needs to be on your beach itinerary.
If you're following official rules, you're going to need 7 people to a side - of course, as long as you have even teams and a patch of sand that's large enough to play on to play with, you're good to go.
You can even recruit bystanders into it if you want!
Of course, before you start assigning teams and whatnot, you'll need to know how to play - click here to learn the rules.
And of course, you'll need a frisbee as well! We love the Green Toys Eco Frisbee - not only does it look awesome soaring through the sky, but it's actually made from 100% recycled plastic bags!
4.Water ball games
What you need

: Waboba ball

Number of people

: 2+ 

 
If your idea of a fun beach game involves splashing around all over the place until water starts coming out of your ears, then these beach ball games are for you!
And it's all possible thanks to the Waboba ball, a beach ball with a twist.
Unlike other beach balls, this awesome little ball bounces when it hits water, allowing you to play all sorts of games and activities that wouldn't be possible with a regular ball.
Whether it's water 4-square, water tennis, playing fetch with Rover or just trying to pull off trick shots, this unique ball opens the door to all sorts of awesome and unique beach games!
5.Beach volleyball
What you need

: a ball, a net

Number of people

: 4 people

 
While this particular game takes a bit more setup work than some of the other games on this list, it's well worth it!
Great for a bit of casual beach fun, beach volleyball is great for bringing out your inner competitor.
Just be sure that you find a spot with plenty of space - we're sure your neighbours won't appreciate balls randomly flying in their direction.
6.Spikeball on the beach
What you need: a spikeball set and a ball
Number of people: 4 people (2x2)

All participants stand around the Spikeball net to make a circle. One team starts with one player serving the ball into the net. After serving the ball, each player can move anywhere around the net.

Once Team 1 serves the Spikeball, it's up to Team 2 to return it. After the bounce, Team 2 gets three touches between team members to get the ball back into the net.

If your team fails to get the ball back into the net within your three touches, the opposing team scores a point. The first team to reach 21 points wins.

This is a fast-paced and highly energetic game, and we must admit, brings out a little bit of our competitive side!

Make sure your skin's protected
Specifically, that means that you've got:
Before you set up and find your space for beach games, you'll need to make sure you've got all of the beach essentials!
Luckily, our online beach shop has you covered!
Stay hydrated
Did you know? Running on sand takes approximately 1.6 times as much energy as running on solid ground.
Because of that, it's important that you stay on top of your hydration!
Our range of beach drink bottles are insulated, keeping your water cool - perfect for when you're playing under the sun!
Make sure you've got a place to chill out afterwards
That means staking a claim using a beach umbrella and laying out a towel to claim a patch of sand as your own.
Of course, the sand isn't the only place you can chill out after a long hard session of beach volleyball, water cricket or ultimate frisbee!
7.Water Floats & Rings
Want to chill out on the water - and command the attention of everyone else on the beach?
Our range of beach floats also includes stadium islander floats - essentially, they're floating sofas, allowing you and your friends to chill on the water in ultimate style for the rest of the day.
One of our favourite beach floats is the Manuka Flora Ring by & Sunday, lap up the sun, relax and laze in the water with this unique ring float designed by MAIKO NAGAO.
Get summer-ready with our online beach shop
The weather is heating up - and so too are your plans for the summer! 
Now's the perfect time to get your beach gear sorted so that your ensemble is good to go when the moment arrives!
Missing something? Running low on the essentials? Need a particular item to make your beach games happen?
Our online beach shop has you covered.
With a huge range of products running from beach essentials to beach games and toys for kids (and adults!) of all ages, we've got everything you need for a fantastic day at the beach.