Stay safe this summer: our essential guide to choosing sunscreen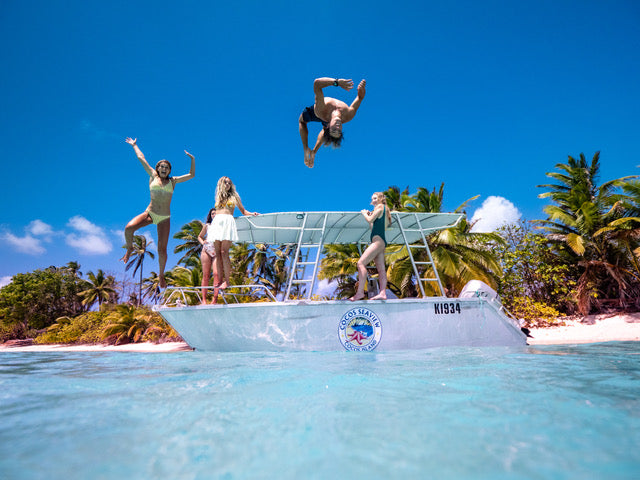 Australian beaches really are something, aren't they?
Our entire coast is lined by them, and if you wanted to visit a new one every day, it would take you a whopping 27 years to achieve that goal!
And with 90% of our 25-million strong population living on the coast, it's little wonder heading down to the beach is how most of us would enjoy a summer afternoon.
Beaches are just one thing us Aussies are proud of. Something we're not so fond of? The fact that we have the world's highest skin cancer rates.
It isn't a great record to hold - that's probably why every single Aussie has the words "slip, slop, slap" seared into their memories from an early age:
Slip: slip on a shirt to cover your skin

Slop: slop some sunscreen on uncovered skin

Slap:

slap on a beach hat

to protect your head
However - not all sunscreens are made equal!
So, what do you need to look out for, based on your specific skin type?
Choosing sunscreen for oily skin
People with normal skin don't really understand the struggle that comes with having oily skin... especially when it comes to buying sunscreen.
While it protects your skin from harmful UV rays, most sunscreen on the market can leave your skin feeling a bit greasy. If you have oily skin, sunscreen is probably one of your worst enemies!
Notice how we said that most sunscreens are oil-based - fortunately, not all of them are.
If you have oily skin, you'll want to look for lightweight, matte sunscreen that uses a water or gel-based formula and absorbs quickly.
In particular, keep an eye out for sunscreen that features green tea, tree oil, or niacinamide, as these can help control oil production.
(Luckily for you, our range of natural sunscreen is suitable for all skin types, including oily skin!)
Choosing sunscreen for dry skin
If you have dry skin, we have one piece of advice for you: moisturise, moisturise, moisturise!
Yeah, you're at the beach. And that's the problem - salt water dries your skin out.
But did you know? Your choice in sun protection can also help keep dry skin moisturised!
Some sunscreens are formulated so that they don't interfere with other moisturises, making them safe to layer on top of other products without rubbing off.
Some sunscreens even double as moisturisers themselves, keeping your skin healthy in more ways than one!
On top of protecting your skin, Cocooil sunscreen is full of vitamins and antioxidants that feed your skin all the nutrients it needs, keeping it nourished and hydrated while also protecting you from the sun.
What's the best sunscreen for sensitive skin?
If you have sensitive skin, we feel for you. Not only are sunburns more painful, but a lot of sunscreens out there can irritate your skin, too.
Fortunately, there are plenty of sunscreens out there that are specially formulated to pamper and protect sensitive skin.
Our online beach shop stocks sunscreens that are safe for your sensitive skin. For example, SunButter sunscreens are made without chemicals, parabens or added fragrances - only natural ingredients here!
Sunscreen for acne-prone skin
Acne can affect people at all ages and during any stage of life - so no matter your age, you'll  need to protect your skin with sunscreen that doesn't irritate your acne!
If you have acne, sunscreen is a non-negotiable, particularly if you're on medication.
That's because some acne medication has the unfortunate side-effect of making your skin extra sensitive to sunlight.
So what can you do?
Well for starters, you can avoid oil-based sunscreen, and steer clear of sunscreen with heavy, occlusive oils and strong fragrances.
Beachfox sunscreen is a great choice, with its gentle, lightweight products.
Finally, read the label and make sure you've got a sunscreen that's non-comedogenic - that's to say, sunscreen that's been specially formulated and tested to not clog your pores. 
Tips for choosing the right sunscreen for every member of the family
1) Choose sunscreen that protects you from
both
types of UV light
We all know that UV exposure isn't healthy - what you may not have known is that there are actually two different types of UV light!
UVA and UVB rays are different - while all sunscreens protect against UVB, not all of them protect you from UVA.
When choosing a sunscreen, be sure you select a product that offers "broad spectrum" protection - that is, protection for both UVA and UVB rays.
2) Understand the difference between water resistant and waterproof
Let's get one thing straight - there's actually no such thing as waterproof sunscreen - and brands are no longer allowed to make this claim (just like the word sunblock - as no sunscreen can truly 'block' the sun).
The words you'll probably see instead is water resistant.
So when a sunscreen says it's "2-hour water resistant", it means that the SPF coverage marked on the bottle will be the same as when you applied it versus after you've been in the water for 2 hours.
As soon as you reach that time limit, it's time to reapply!
4) What's the best baby sunscreen?
Just to be clear: most of the time, kids sunscreen doesn't actually use a different formula - rather, it's pretty much the same product, only packaged with bright colours or their favourite cartoon character (it's a marketing thing!) 
Of course, the most important thing is that your kids put sunscreen on to begin with. We recommend choosing a minimum SPF 30+ protection as well as a formula for sensitive skin. 
Always patch test, and don't forget additional protection, like a hat, long sleeves, and shade.
Worried you won't remember when it's time to reapply? We've got the answer! 
Discover these awesome UV detection stickers fromSPOT MYUV. These stickers change colour over time, helping to remind you that it's time to slop on some more sunscreen.
Everything you need for a great day at the beach
Buy sunscreen online - as well as everything you need for summer
Beach umbrellas. Beach chairs. Matador backpack. And of course, a huge range of sunscreen!
If your skin behaves differently from normal skin, buying sunscreen can be a major pain (though not as painful as the nasy sunburn you'll get by skipping sunscreen altogether!)
Each sunscreen brand we stock at our online beach store is carefully chosen:
Each is made without harsh chemicals

Our range is suitable for different types of skin

We only choose ethically-made, cruelty-free sunscreen brands

Our sunscreen selection is ocean-friendly
Shop sunscreen online now from all your favourite brands, including SunButter, BEACHFOX, and Cocooil, and enjoy fast delivery Australia-wide.
Have questions? Use the chat function on our website to talk to us now!