Beach packing 101: what you need in your beach bag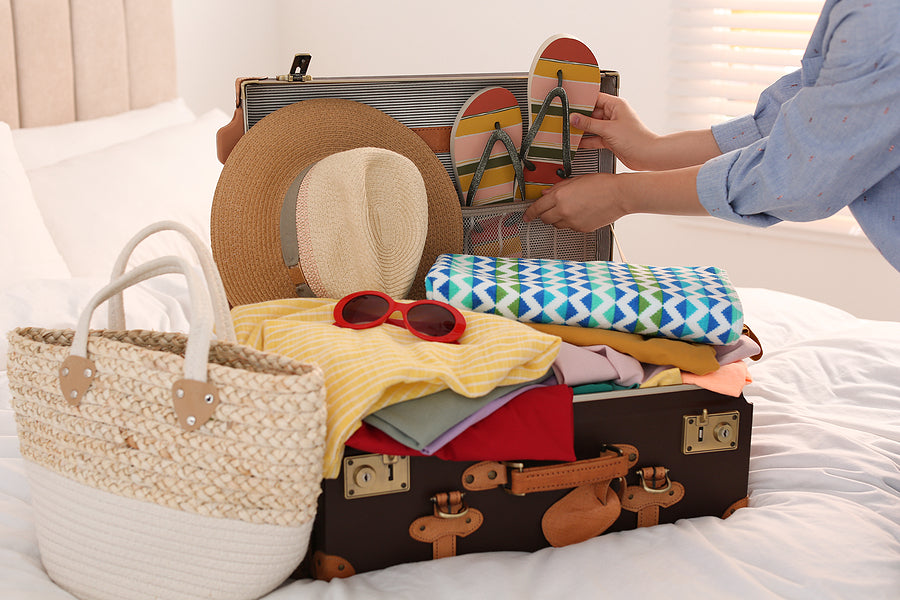 With summer so close (you can practically feel the ocean breeze on your face), it's time to start thinking about getting ready for a summer of fun in the sun.
That means getting your beach ensemble ready now, in time for the Christmas break.
Whether you're going interstate for the holidays, spending the break at your holiday house or planning to basically live down at your local beach, it's crucial that you start by getting your beach ensemble in order.
So - what essentials do you need in your beach bag?
What should you put in your beach bag?
The best bag for the beach
Before you start packing, you're going to need a beach bag first.
A lot of beachgoers just use a regular old gym bag or a backpack to carry all of their stuff with them to the beach. And while that might be sufficient, it doesn't really look the part.
Obviously, you're going to want a bag that's big enough to carry all of your stuff comfortably. 
However, this isn't the only thing you're going to have to think about when selecting a beach backpack or matador droplet wet bag - you're also going to need one that's specifically for beach use:
Easy to clean of sand

Made of durable material

Washable once you get home

Waterproof (for all of those wet towels you're going to end up with)

Fitted with plenty of pockets to keep things like your phone and wallet safe
And of course, it needs to be stylish.
The beach is the world's longest catwalk - you're going to want to make a good impression.
Don't forget beach toys
The beach comes with hours of unprompted fun - enhance the adventure with our fantastic range of beach toys. 
Beach games and toys can help elevate your child's beach experience to the next level, and opens up so many new ways of playing at the beach.
From simple things like shovels and buckets to beach cricket sets (complete with balls that bounce on water) can make your beach holiday even more enjoyable for the little travellers coming with you!
Choose the right sunscreen
The Aussie sun is harsh and powerful - if you're going to stay safe while at the beach, you need to take steps to protect yourself.
Sunscreen is an absolute must-have in any beach bag in Australia.
However, it won't do to just choose any old sunscreen - you're going to need sunscreen that:
Won't wash off in the water

Is ocean-friendly and non-toxic

Is suitable for a wide range of different skin types
Our online beach shop makes it easy to choose sunscreen that ticks all of these boxes. With extras like MyUV stickers and brands like Cocooil and Sunbutter Sunscreen which are dedicated to creating products that protect your skin while also protecting the environment, we've got just what you need.
Curious what the best sunscreen for dry skin in summer is? Eager to learn what to do if you have oily skin? This blog post is filled with a ton of useful info.
What snacks should you take to the beach?
Feeling peckish?
Now, unless you've got the Rovr 60 esky), you're going to have to be strategic with what you bring.
That means forgoing anything that could melt, or which is better when it's cold.
Our recommendations? Fruit. Not only is biting into a tub of blueberries or pineapple slices refreshing but it also means minimal cleaning up afterwards.
Bring a good book
Are you trying to find time for that book someone got you last Christmas?
Whether it's to read on the flight to Queensland, or to flip through while you soak in the rays and work on your tan, a good book is essential if you plan on spending time at the beach or on holiday.
Shade your eyes in style with good quality sunglasses
Not only is it really annoying when you forget your sunnies at home, but UV exposure can lead to cataracts and macular degeneration, while squining can result in fine lines and wrinkles around the eyes.
Best of all, with a good pair of sunnies, you'll be able to take in more of your surroundings. So get comfortable and enjoy the view with our range of stylish beach sunglasses. 
Want your next seaside trip to be your best beach day yet?
Start by visiting our online beach shop
These are just some of the things you're going to need for a fun holiday at the beach - and you'll find it all at Boatshed7.
With a huge range of beach gear from leading beach brands, our store has everything you need for a day at the beach.
And unlike the beach gear you'll find at your local department store, everything in our shop is rigorously tested by our product testing team (read: us and our kids) in our testing grounds (the local beach).
We wouldn't sell anything we wouldn't buy ourselves - and we have some pretty high standards. 
What might you find at our online beach shop? Find out for yourself - start shopping for your beach essentials!