Our top tips for camping with dogs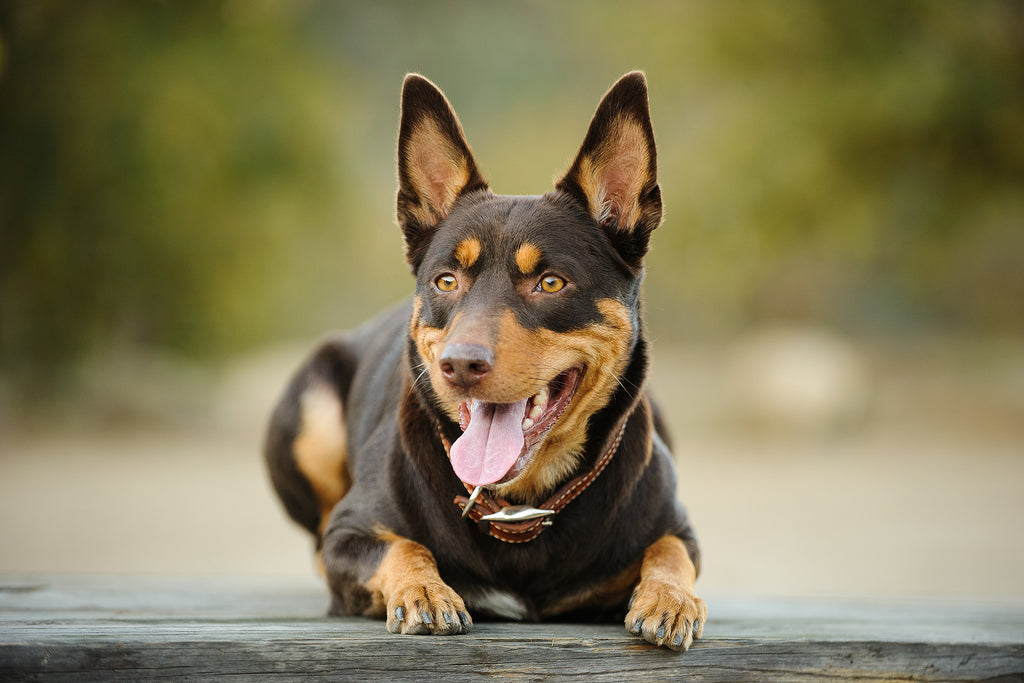 It seems to be perfectly timed that Victoria's restrictions have been lifted as we approach the greatest time of the year: summer.
Whether you're getting back into planning a long-awaited trip, have only recently chosen to holiday locally to support our economy, or have had to adjust your overseas travel plans, we've no doubt got holidays on our minds. 
And what better way to enjoy our summer than with a camping trip?
Hopping in the campervan and setting out for a two-week adventure? Keeping it local and driving to a nearby camping spot?
No matter what type of trip you plan, a camping holiday is sure to be enjoyed by every member of the family - including man's best friend!
But how can you ensure your furry pal has a great time like the rest of the family? There are some important considerations to make if you're planning to take Lucky, Ace, or Max along with you…
Safety is your top priority when it comes to camping with dogs
As with any other member of your family, safety is your number one priority when it comes to welcoming your dog on its first camping trip.
Dog-friendly camping grounds
This goes without saying, but if your family is looking to set up camp in a designated camping ground, ensure it welcomes dogs.
Carefully check regulations and get familiar with policies including leash rules, barking at night, going to the toilet, and how they interact and engage with other dogs.
Note that some parks that permit pets may have certain exclusions, particularly during busy periods like Easter or Christmas. 
Keep an eye on the weather
Just like we feel the heat during the hottest part of the day, so too do our four-legged pals - and even more so thanks to their in-built fur jackets.
Look for the signs of overheating including heavy panting, weakness, and a bright red tongue.
Move them to a shaded area, give them a bowl of cold water, and monitor their symptoms and behaviour. Much like humans, dogs too can suffer from heatstroke. Don't push them beyond their limit. 
Take a photo of your pet
Ensure you have a recent photo on your phone should your pal get loose.
Make sure you capture a clear photo with pup looking at the camera, and also capture any distinctive features or markings that could help someone identify them.
Keep your pup comfortable
Can my dog sleep in the tent with me?
The simple answer is he sure can.
And in fact, many believe this is the safest option.
Make sure your tent is zipped up completely, and put obstacles like backpacks in front of the door to prevent a curious dog from digging around and potentially escaping. 
It goes without saying that safety is the number one priority, and your dog inside with you protects them from insects and from wandering off, and also protects other campers.
Food, water, and going to the toilet
A collapsible water bowl is a must-have for days out with the family and the dog. These portable, safe-saving devices are easy to carry and slip neatly into your day pack. 
Ensure your dog always has a fresh supply of water at the campsite too.
Collecting waste
Being a responsible dog owner is a non-negotiable, no matter where you are.
Ensure you pack plenty of waste bags and have them on you at all times inside a matador backpack - whether you're at your campsite, visiting a local town, out hiking, or chilling by the lake or beach. Dispose of waste responsibly and correctly. (And nope, you can't just leave it to decompose - it can actually harm the environment.) 
Take your dog to the toilet right before sleep time to reduce the chance of a disturbance overnight.  
Essential items when camping with your dog
Leash and harness (consider short and long leashes depending where you are; long leashes can be used while you're out to allow them to explore more freely)

Dog treats and snacks

Medication and first-aid kit

Waste bags (for not only the campsite, but during any walks or day trips)

Collar and ID tags (with a current mobile number, and even your campsite location)
Optional items
Paw protectors
Waterproof and non-slip booties will help pup keep his balance on unfamiliar or slippery surfaces
Bed or blanket
Bring the comfort of home along, just as your kids would bring their favourite stuffed toy.
Comb or brush
Something you probably didn't associate with camping, but we suggest packing one in your bag so you can easily brush out any debris your pet's fur collects during your daily adventures.
Hit the road with your best pal in tow
Summer's all about good times with the people (and pets) most important to us.
So pack up the car, the kids, and the dog, and get set for an adventure of a lifetime.
Need to update your beach gear?
Shop online now for the coolest and chicest outdoor equipment and accessories
.