X marks the spot! What you need for a beach scavenger hunt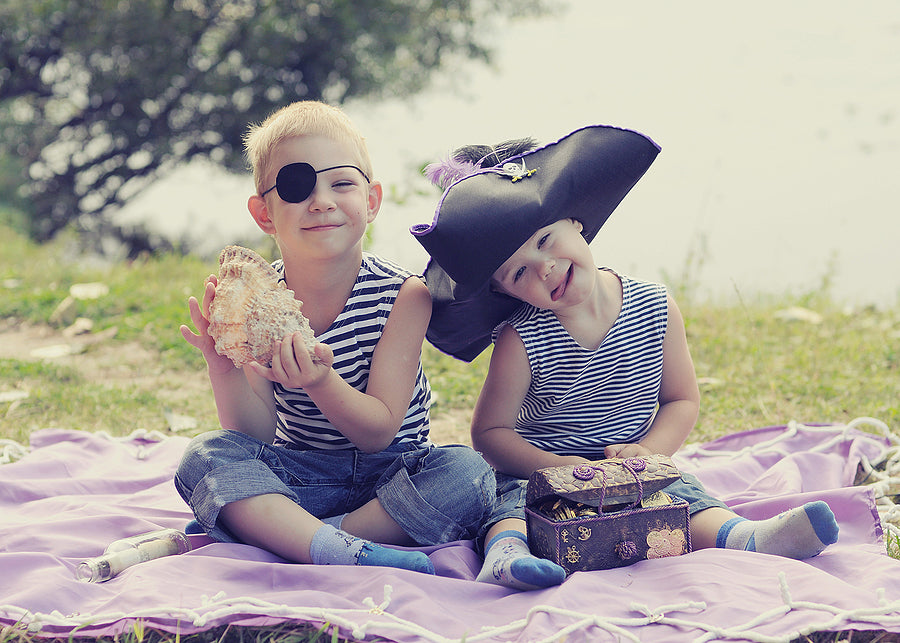 X marks the spot.
While you might not be at a deserted island, you are at the beach - and what better way to fire up your kids' imaginations and get them even more excited about their trip to the seaside than with a treasure hunt?
Whether it's to add some spice to the next beach trip, to satisfy that pirate phase they're currently going through, or simply a way to keep them occupied, a well-planned scavenger hunt can be a fantastic activity for the whole family.
However unlike a lot of other beach activities, this is one that requires a decent amount of thought, and a little bit of prep work. And that's exactly what we're here to help you with...
What are some beach scavenger hunt ideas?
X marks the spot
While it takes a bit of prep work, this type of beach scavenger hunt can be the most fun!
Here, problem solving and teamwork is being tested to uncover clues and find the secret location.
For younger kids, pick a more obvious spot, like the nearby cafe or ice-cream van. For older kids, you might like to hone in on a more subtle landmark like a park bench or even avantage point where they can take a cool photo on their phone as proof they've reached the end.
With a treasure map to follow, landmarks to look out for and a huge hoard of gold at the end of it all, a buried treasure hunt isn't just fun - it's also a fun way of getting your kids to work together as a team and test their problem-solving skills.
Scavenger hunt
Instead of buried riches, why not challenge your kids to identify a number of items you're sure to spot at any beach?
Whether it's seashells, pieces of driftwood, a feather, or even a certain colour towel, a scavenger hunt can be a fun way to challenge your kids and pump them up for an exhilarating and stimulating day at the beach. 
Give them a checklist and ensure they spot all the items on the list, and tell them that the grown-ups will act as the judges, witnessing all their finds.
Once they've checked off their list, they win a prize - whether that's some cool new beach gear or an ice-cream treat to enjoy on the way home.
How to make a beach scavenger hunt for kids
Eyes on the prize: how will your kids be rewarded?
The most tantalising part of a beach treasure hunt is the reward at the end.
What are your kids playing for? What prizes or treats will they get to enjoy, should their mission be a success?
Whether you want to tell them what's up for grabs or leave it as a surprise at the end is really up to you.
Get involved
It's more than a hunt - it's an adventure, a story.
And no story is complete without a vibrant cast of supporting characters.
Don't be afraid to flex your acting chops as you play the role of all the different characters your kids will encounter during their treasure hunt.
What are riddles for a beach scavenger hunt?
"To find my treasure, you must answer these riddles three…"
No scavenger hunt is complete without cryptic riddles and challenges for your kids to overcome. For example, riddles such as the one about the donkey named Friday are sure to keep them racking their brains as they try to figure it out.
Make it so that completing each riddle gives kids a small clue towards where the treasure is, or directions to the next challenge.
If possible, try to choose riddles that are beach-themed. And if you can, you can try to find ways to work clues into the environment just in case they're struggling to figure things out.
Need riddles? Here's a huge list of kid-friendly ones.
Not just riddles
A good mix of physical challenges and puzzles can give both brainy and brawny kids a chance to play to their strengths.
Be sure to include a mix of:
Logic puzzles

Racing challenges

Ball toss games
Not only do they add in some variety to your treasure hunt, but they can also mean that kids with all sorts of strengths can join in on the fun.
Bring props
A lot of these beach challenges and riddles will need props to make them happen. As such, you'll want to think of what you need before you set off.
Whatever it is, be sure to toss it into your beach backpack before you set off for the beach!
Don't forget the beach essentials
A beach treasure hunt can be a great way of making the kids' day that much more exciting and engaging.
Of course, that doesn't mean that you can neglect the beach essentials.
While a beach treasure hunt can liven your day up, even the best treasure hunt won't save the adventure if you forget the essentials.
Depending on how your beach treasure hunt is set up, your kids might end up running all over the place in the sun, leading to nasty sunburn (even if it's overcast).
This can ruin your day - all the more reason to ensure you bring sunscreen and a UV-resistant beach umbrella (and to give each kid a MyUV sticker that reminds you - and them - when it's time to reapply sunscreen).
And don't forget that the kids will need to take breaks every now and then - a good set of beach chairs to sit on as well as a rolling beach cooler for refreshments ensure they have a comfortable way station on their long and arduous quest!
Explore a treasure trove of beach gear online with Boatshed7
Boatshed7's online beach store has one mission: to be your number one online destination for anything beach related.
As regular beach-goers ourselves, we've also used a lot of the beach gear on offer at department stores, and frankly, we weren't impressed with it.
Much of it was cheaply made, bad for the environment, and barely lasted more than one season of wear.
You know what they say: if you want something done properly, do it yourself.
Fed up with searching high and low for high-quality beach gear, we decided to open our own shop, stocking only the best of the best. 
Let's look at sunscreen for example. Our sunscreen range features a wide range of boutique brands such as Cocooil and Sunbutter sunscreen, each of which are suitable for a wide range of skin types and are ocean-friendly.
While you get to work planning your treasure hunt, we'll ensure you've got everything else you need for a fantastic day out at the beach. Click here to start shopping.