What do you need to bring to your tropical holiday destination?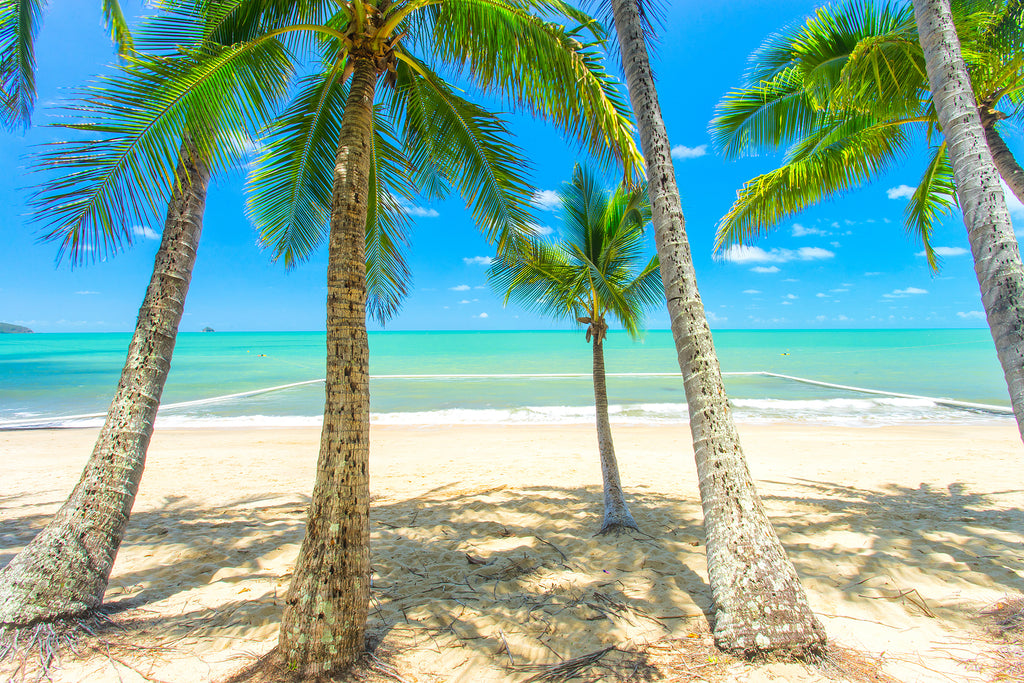 Bali. Honolulu. Rio. Who needs 'em when Australia's north is home to its very own idyllic world-class tropical destinations?
Whether you're rearranging your travel plans to feature local destinations or simply need a holiday to look forward to (we feel you!), a tropical resort is one of the best ways to unwind and relax - especially as the weather starts to warm up.
Good weather, luxury amenities and services, poolside bliss… what more do you need?
Of course, if you're going to spend a week at a tropical resort, you need to look the part!
Buy beach gear that's more than just functional
We like to say that the beach is the world's biggest catwalk - that's why style is one of the things we look at when choosing items to stock at our online beach shop!
It's important while you're at the beach - it's even more important when you're staying at a tropical resort.
Resorts are classy, stylish and luxurious, while the right gear ensures that you don't look out of place while you're on your tropical holiday.
We look at a range of different things when choosing which brands to carry - and one of the most important things we look out for is style. If it doesn't look as great as it functions, we won't sell it!
What to bring to your tropical resort
Pack two swimsuits
We know what you're thinking - "I'm going back into the water, so it'll just get wet again."
It's true that it'll probably get wet anyway - but what about things like sand and salt?
Both of these can get uncomfortable if they aren't washed out properly after a long day spent in the water.
What do you do when your main swimsuit is in the wash? Put on your spare, of course!
In our experience, very rarely is a swimsuit completely dry after a day spent in resort swimming pools or at the nearby beach.
While one's hanging out to dry in your room, you'll be able to quickly don the second and dive back into the water for another day in paradise.
Pack thongs and other easy-to-wear shoes
Flip flops. Thongs. Slides. Whatever you call them, we suggest forgoing regular shoes and instead wearing this type of footwear exclusively!
There are a couple of reasons why:
The weather's going to be warm - regular shoes might be too uncomfortable

You're constantly going to be taking them on and off

They're light, so you'll have more space for other luggage

They'll likely get wet!
Unless you're planning on doing a lot of exploring while you're on holiday, we recommend packing light on the footwear front.
Bring a beach towel - specifically designed for sea and sand!
Regular towels and beach towels serve very different purposes. One, you use after stepping out of the shower - the other one you use to lay on the sand and dry off by the ocean.
If you're going on holiday to the tropics, it's important that you ensure you're packing a good quality beach towel in your matador backpack. Whatever you do, don't rely on your regular bath towel.
Compared to regular towels, beach towels are:
Larger

Lighter

More durable

Resistant to fading
It's a simple piece of advice - however, it might surprise you how many people simply don't take it into account!
Sun protection
Specifically, we suggest bringing:
Wherever you're heading, if there's sun, protecting your skin is critical.
When buying hats, sunglasses and sunscreen, it's important that you choose products that have a high UV rating and offer sufficient protection.
We all know how important it is to buy SPF50+ sunscreen - but what about everything else?
UV can penetrate those cheap umbrellas on the market - does your

beach umbrella

have UV blocking properties?

Your eyes can be sunburned too - are your sunglasses UV rated?

Certain hat materials can let UV rays through - will your beach hat protect your head, face, neck, and ears from UV?
These are just some of the things you need to look at when buying sun protection!
Do your sunscreen, hat and sunglasses tick each of these boxes? If not, you might need to upgrade before you set out on your tropical holiday.
Consider pool and beach floats
Imagine being able to lie back and work on your tan, catch up on your favourite paperback or just relax while floating out on the water and sipping a mimosa.
It's the dream, isn't it?
Of course, if you want to do this, you're going to need a pool or beach float to lie back on!
What's more, you want a float that's stylish and which doesn't look out of place at your resort. That means avoiding low-quality items.
Luckily for you, our online beach shop has everything you need.
We only choose the most stylish products to stock - something that extends to our range of beach floats by The Nice Fleet, fresh from Europe!
Beach umbrellas
Sure, the resort may have umbrellas lining its pool.
But you aren't going to be spending all of your time at the resort, are you?
You're already at one of the world's best tropical locations - a trip to the beach is an absolute must.
But to do that, you're going to need to pack your own beach umbrella first.
It's something that a lot of holidaymakers seem to forget - luckily, you won't be making that mistake thanks to our huge range of sun umbrellas, including the premium Business and Pleasure Co. range.
Each of our french umbrella is made of UV-blocking material, protecting your skin from harmful UV rays and ensuring that you're able to go home comfortable, and not covered in sunburns!
Waterproof beach bags
A waterproof beach bag is an essential piece of the puzzle to protect the things you don't want to get wet. 
These gorgeous waterproof pouches from Wander Wet Bags are the perfect size to store your phone, room key, wallet, and camera as you splash in the resort pool or take a dip in the ocean.
Alternatively, you can use them to store kids' swimming caps or goggles following their water activities - keeping wet items away from everything else in your carry bag. 
Get ready for your trip to the tropics!
The gear isn't what makes your tropical holiday a memorable one - however, they can certainly make it easier and more comfortable!
Whether you're planning on spending all of your time at a luxury resort or heading out to the local beaches, it's important that you have the right gear before you go jetting off for warmer latitudes.
Don't know where to start? Why not pay a visit to our online beach shop?
We've got everything you need for your holiday:
Beach toys and games

for the kids

Sun protection like hats, sunscreen and sunglasses

Towels and umbrellas

Beach floats and chairs
Start shopping today - alternatively, click here to ask us any questions you may have!