What can you do at the beach at night?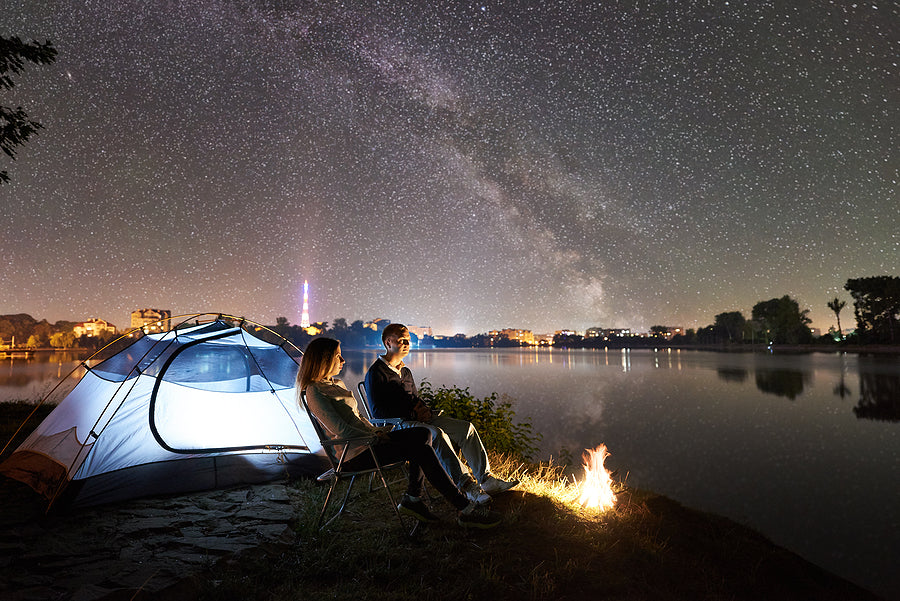 Playing in the water. Working on your tan. Soaking in the sun's rays.
These are some of the most iconic beach activities out there - and each of them are only possible during daylight hours.
For most, that isn't a problem. Of course, if your next beach trip is taking place after-dark, you'll need some new ideas… 
What can you do at the beach if you're heading there after dark? Or what if your day trip to the  beach carries on into the night?
There are so many fun and exciting activities you can do - all it takes is a little thought and creativity. And luckily, we've done the thinking for you! 
What beach activities can you do at night?
Bonfire 
Who doesn't love the idea of a jaw-dropping bonfire on a chilly night?
Endless conversations, marshmallows, beach wine glasses, ghost stories, some music in the background - there's something to be said for the simple pleasure of chilling with friends around a nice fire on a cool night! 
If you're looking for after-dark activities to wrap up your beach trip, you can't go past the campfire idea.
Just remember to check beforehand whether or not the beach you're going to allows campfires first. You can use the internet to search for not only beaches that allow fires, but also campgrounds located near beaches, too.
To help get you started, here are 10 campsites near NSW beaches and 10 beaches in Victoria that allow fires. 
Beach picnic
The beautiful thing about beach picnics is that it doesn't really matter what time of day you hold your picnic - a good picnic can happen anytime.
As with a daytime picnic, it's important that you pack food that has minimal waste, doesn't need to be heated up and which can be eaten using your hands.
It isn't just the food you'll need to think of - be sure to pack large beach towels that will be able to comfortably seat everyone attending your beach picnic, as well as a beach cooler bag to keep your snacks cool.
And of course, since it's nighttime, think about how you're going to illuminate your picnic. 
While torches and phones can help, a battery-operated lamp or lantern to put in the middle of your picnic rug can be a great way of seeing what you're about to grab from the picnic basket.
Another good idea (and for a romantic touch) is to sprinkle battery-operated tea lights or string lights around your picnic rug.
We also suggest keeping an eye on weather apps to find out when the sun will set, and plan your picnic around that. Now, find a vantage point and soak in the beautiful view. 
Stargazing
If you're far away from the city to the point where light pollution isn't a concern anymore, roll out the beach blankets, unpack the beach chairs and just gaze at the stars above.
Not only is it incredibly soothing, but it can also be a fun bonding experience, as well as a great conversation starter.
And as always, you'll want to pack some refreshing drinks, some chilled tunes, and yummy snacks.
Beach camping
A lot of people find the sounds of crashing waves surprisingly soothing - little wonder that beach sounds are such popular choices for people who have trouble sleeping.
Why settle for a recording when you can fall asleep to the real thing?
Camping on the beach is a unique and exciting adventure, so long as you're prepared. Catch up on essential beach camping tips in this blog post.
Walk along the shoreline
Who would have thought something so simple could be so relaxing, beautiful, and calming?
There's nothing quite as special as soaking in the atmosphere as you walk along the shore after-dark.
What to do at the beach if you can't swim or get in the water
Half the fun of going to the beach - especially for the kids - is the water. However, it isn't exactly something you can do once the sun goes down.
Luckily for you, there are plenty of other things you can do while you're at the beach instead of swimming once the sun goes down...
Beach games
In particular, we're talking about beach games that you can play on the sand or in the shallows.
A game of beach volleyball, cricket, beach soccer… these games are beach classics, and best of all, can be played in low-light conditions such as a trip to the beach after-sunset.
When thinking about beach games, be sure to consider how far afield your games will see your kids running. For example, beach tiggee probably isn't the best idea, as kids might venture too far for you to keep track of them.
Just be sure that you pack beach toys for the kids. While the little ones can create fun out of seemingly nothing, it's a lot easier to keep them occupied when they have something physical in their hands.
Oh, and speaking of which...
Sandcastles… with a twist
If you ask us, building a sandcastle at night can actually be even more fun.
A good idea is to bring battery-operated candles, glow sticks and sparklers into the equation now that it's dark enough to get the maximum effect.
Not only does it add a unique spin to sandcastles, but you'll also leave with some incredible Insta-worthy shots (especially if you make use of the long-exposure mode on your phone camera).
Throw a dance party
Kids love to move - what better excuse to get them on their feet than a beach dance party?
Whether it's a playlist of poppy Caribbean beats or your very own house mix, a good playlist plays a critical role in setting the mood.
If your kids are dancing, hand out glow-sticks as well. We guarantee they'll get a kick out of the visuals they can produce with movement!
Visiting in the off season? What you can do at the beach in winter
When we think of the beach, our mind conjures up the feeling of warm sun and layers of sunscreen. But for some, the beach is more than just an escape during summer.
Many love visiting the beach during the winter, too. It's much quieter, of course, and offers a totally new experience. So, what can you do at the beach during winter?
Games
Warm up those chilly bodies with a range of games that you can play on the sand. From simple ball games to good old beach cricket, the choices are virtually endless - and perfect for those of any age.
Yoga
Nothing is more invigorating than a morning stretch or yoga or pilates session on the beach. Make it even more meaningful by rising along with the sun!
Walking
Walking is a great, low-impact way to get the blood pumping and warm up those chilly bodies during winter. Grab a friend for a catch up or go it alone, enjoying some 'you time' with an uplifting playlist or captivating podcast.
Slow down
Now's the time to really take a moment and relax, make the most of smaller crowds. Take in the cool, fresh air and the crashing waves.
There's no hurry here to find the best spot on the sand or contend with larger crowds; it's just you and the endless ocean in front.
While exciting, nothing is more important than your safety. During the colder seasons, the weather, tide, and ocean is different. If you're planning to swim, make sure you check the forecast as well as the tide times.
Whether you're swimming, hiking, or simply looking to experience the beach from a new perspective, there are still a few simple tips you should follow:
Check the weather and UV rating (remember the UV can be strong even when it's cloudy)
Dress appropriately in layers (including a beach blanket to cosy up under)
Carry some essentials in a beach bag
Take special care after a storm or wild weather
Observe all beach safety signs 
Planning to visit the beach at night during the winter?
Dress warmly and prioritise safety over everything else. Don't litter, and make sure you check carefully if campfires or bonfires are allowed. Time your visit so it coincides with the sunset, then find a comfy spot, rug up under a blanket, and watch the stars.
Planning to visit the beach at night?
Make it extra memorable with our online beach shop
Daytime isn't the only time you can go down to the beach - with the right planning, a night trip to the beach can be just as fun and exciting.
Just remember that you might need to do a little bit of extra planning to make it work.
Part of planning is choosing activities and timing things out. Another large part of it is ensuring that you have the right beach gear to do all the activities you have planned.
If you're looking for beach gear, Boatshed7's online beach gear store is the only place you'll need to visit.
Beach floats, towels, umbrellas, the perfect beach chair for you… these are just some of the things you might need to add to your beach ensemble.
Whatever you're looking for, if you buy it from us, you can be confident that you're getting a product that's:
Environmentally-friendly

Free of BPA

Tough and durable

Treated for UV protection

Built to last more than a summer!
Find everything you need for your next beach adventure - start shopping for your beach essentials now.