Safety tips for taking your dog to the beach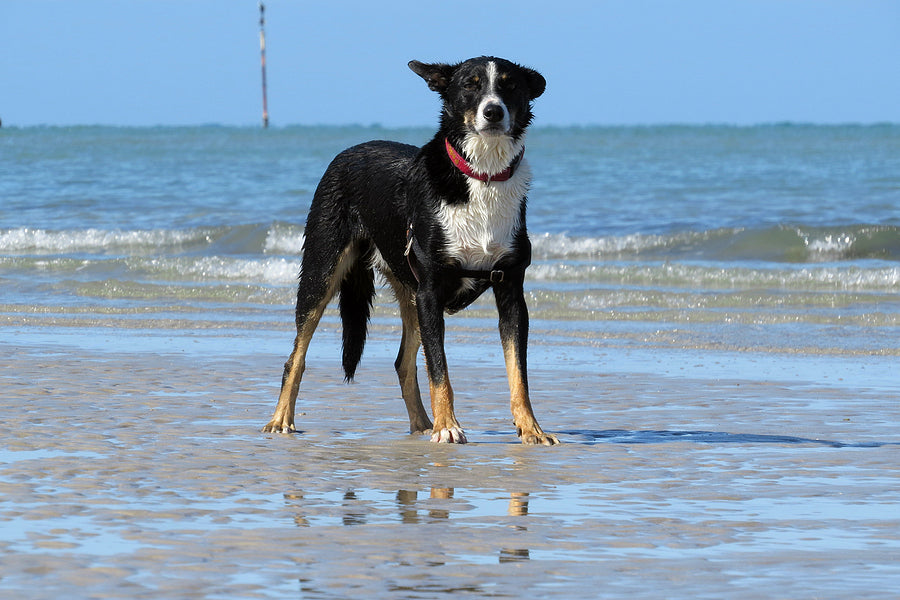 If you love going to the beach and you're ready to bring your fluffy bestie with you, we're here to help you enjoy long walks on the sand, swim in crisp water and laze in the warm glow of the winter sun.
Boatshed7 has everything you need to enjoy open space and salty goodness so don't forget your lust worthy beach accessories.
Why do dogs love the beach?
Dogs love the beach just like we do - it's the chance to socialise, take in the wide open space, and splash about in salty waters.
Most dogs love to be let off the leash to play; they dig giant holes, chase birds on the shoreline, and make new fluffy friends at every opportunity. The beach is basically dog heaven.
That being said, there are some simple tips you should follow to ensure a safe and enjoyable adventure for your four-legged friend.
Bring yummy treats with you
Give lots of praise when they recall and behave well
Avoid the hottest parts of the day
Bring their favourite toy with you
What are dog-friendly activities on the beach?
There are so many dog-friendly activities for the beach, from a stroll along the shoreline to tussling with tennis balls. Just take care to observe the signs at the beach to respect if your dog needs to be on their leash.
What are the hazards you need to watch out for when you travel with your dog?
You love your dog like a member of the family, so it's only natural you want to share all your adventures with them - but before you hit the road, it's worth weighing the pros and cons of bringing them with you versus leaving them at home.
Ask yourself, what would make your dog happy?
Every dog is different, and you know if your dog is active and lives for adventure or if they're more of a stay-at-home snooze-on-the-sofa kind of pup.
Anxiety
Keep an eye out for the warning signs when you travel with your dog. Remember every dog shows anxiety in their own way - not dissimilar from us humans.
Look out for these signs which may indicate they're not having the best time.
Excessive salivation
Panting
Holding their ears back
Frequent lip-licking or yawning
Travelling in a car with a dog
Passenger seats come with airbags which if deployed could cause serious injury to your pup.
Instead, keep your dog safe in the back seat. Remember to strap them in with a dog-friendly seat belt or secure them inside a hard-shelled travel crate.
If you're driving for a long period of time, make sure you take frequent stops to allow all humans and dogs in the car to stretch their legs and take a break.
Hot cars
We all know that hot cars are seriously dangerous, so make sure you never leave your dog alone in the car at the beach or while you have a road stop.
The great outdoors
A new environment can mean new hazards for your pal.
For example, they may develop an irritation or allergy from a plant, the water may upset their tummy, or there may be parasites at different campsites or beaches.
So, when you visit a new place be sure to keep an eye out for any allergic reactions, make sure you pack bottled water and a first aid kit (just in case) and check you're up to date with their parasite prevention plan.
What are the hazards at the beach?
Hot sand
Beware that if the sand is too hot for your bare feet, it's probably too hot for your dog's feet too.
For the ultimate beach day, remember to pack a blanket and two towels - one for yourself and one for your pup, especially if they're having fun splashing about in the water!
Dogs, just like humans, look for respite, especially when the temperature is rising. Consider bringing along a beach umbrella to allow pup to have a break from their adventures and cool off.
Destructive to natural habitats
Dogs love to roam free, chasing wildlife and other pooches on the sand.
We owners have to be mindful that dogs can be destructive to wildlife and natural habitats.
It's important to respect "no dog" beaches and keep to the boundaries that are there to protect our natural Aussie wildlife.
Chasing birds
Sea birds, seagulls and other critters probably won't mind a bit of light interaction but just take care to move your dog on if they're relentlessly bothering wildlife.
Dogs on leashes
Maybe you have a trusty dog that doesn't leave your side, or perhaps your dog is more of a care-free wanderer - whichever kind of character they are, avoid getting a ticket from a ranger and make sure you obey the signage.
If the signs indicate it's okay to let your dog off the leash, as usual, just be mindful of other dogs to ensure a safe and happy time for all.
Salt water
Is salt water swimming safe for dogs?
Yes - it is. There is nothing to worry about if they take a few little sips of salt water. Don't worry if they take a few little sips of salt water.
However it is important to bring along some fresh water (as well as a portable bowl) so that they can rehydrate.
After a few visits, your pup will hopefully learn to come to you for a drink rather than tasting the sea water.
Swimming lessons
If you're introducing them to swimming for the first time, make sure you choose a day with calm waves. Water that pulls and pushes may be unsafe or unsettling for them.
Most dogs are natural swimmers and will adapt to the push and pull of swimming with waves after they build their confidence.
Our 5 favourite dog beaches in Victoria
Whether you're keen for a day trip or just an evening stroll, your dog will love exploring new sights, sounds, and smells at the beach. Victoria is home to a range of dog-friendly beaches; these are some of our favourites:
Surf Coast
White's Beach, Torquay, from Deep Creek to the end of the Esplanade
Mornington Peninsula
Hastings Foreshore Reserve, Hastings, access via Marine Parade, between Hodgins Road and Cool Store Road
South Gippsland
Kilcunda, beach area below the Kilcunda Foreshore Caravan Park, around 150 metres west towards the rocks
South Gippsland
Inverloch, beach area from Wave Street to Ozone Street
Melbourne
Brighton Dog Beach, Sandown Street Beach, Mentone Dog Beach
Planning a beach adventure? Whether you're taking your dog, the family, or riding solo, find the world's best beach accessories right here, at Boatshed7!