6 important features to look for in the perfect beach chair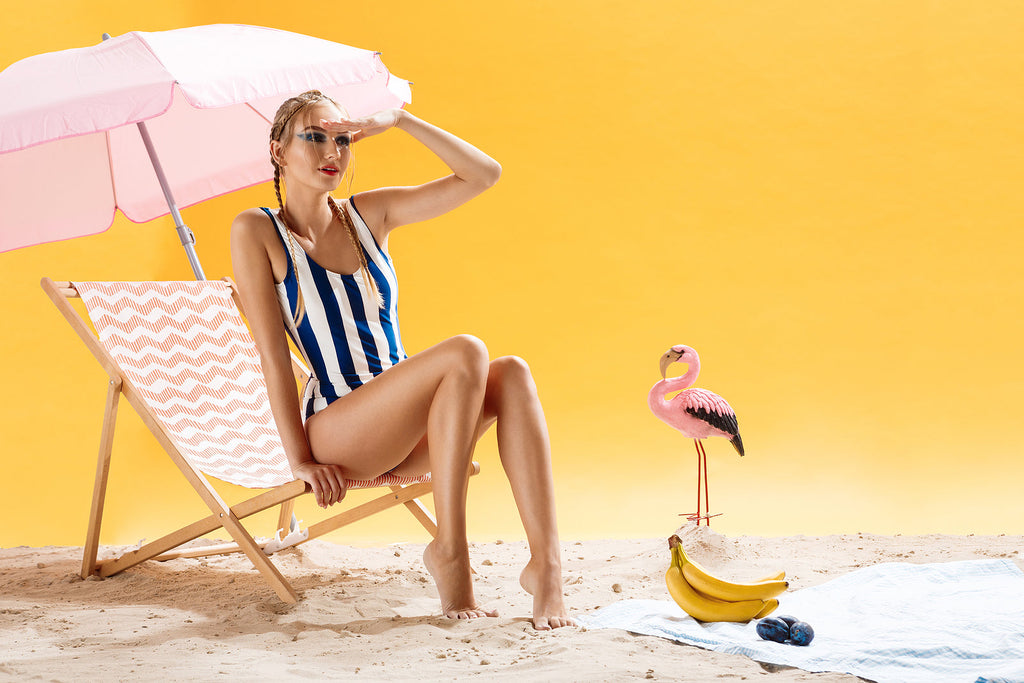 Your beach chair australia is your throne by the sea!
And like any other diamond-studded throne found in royal palaces, it's more than just a place to rest after a long day in the water - a good beach chair should be practical, comfortable and turn heads, all at the same time.
If you thought we'd let you get away with just bringing any old chair on your next beach trip, you'd best think again!
As a serious beach enthusiast, you want a beach chair worthy of royalty - you don't want to be placing your behind in an ugly or flimsy folding chair.
So here's what you need to keep an eye out for...
1) Start by choosing the right
type
of beach chair
Do you prefer lounging?
Looking for something that you can sunbathe in? Or do you want a comfy seat that props you up so you can indulge in some beach reading?
Whichever one sounds more your speed, there's a beach chair out there for you!
Want to take a nap on the beach? A lounger-style chair might be just what you need. If you're looking for something a bit more utilitarian, a standard folding beach chair might be more your speed.
The problem is that your mood changes - you don't always go down to the beach expecting to do the same thing!
There are dozens of different styles of beach chair out there, each one with a different pitch and features. Unfortunately, a lot of them are one-trick-ponies - they're only good for that one particular type of relaxing.
That's why our online beach store stocks a range of beach chairs that can be adjusted for different heights and angles, allowing you to use them for just about any purpose.
2) How easy is it to carry around?
 Playing in the sand is fun.
Carrying heavy and bulky objects over sand? Not so much.
Carrying luggage across the sand isn't pleasant - in fact, according to some studies, walking on sand takes twice as much energy as walking on a hard surface. (That's why professional sporting teams have beach training sessions!)
Of course, you're at the beach to have fun, not work out (well, for most of us!)
Your beach gear needs to be lightweight and easy to transport. That way, you'll be able to eliminate the need for multiple trips to and from the car park and minimise the amount of walking.
And that means more energy for actual fun beach activities!
3) Choose a folding beach chair that doesn't take up a lot of space
Packing for the beach is fun, but it's important that you have a checklist of the essentials (especially if you've got kids!) so you don't forget anything important. 
You need to get to the beach first before you can start having fun. For most of us, that means cramming everything into the car before setting off for the beach.
Does packing your car for a trip to the beach feel like playing a game of Tetris sometimes? If so, it's probably time to reevaluate your beach kit - and that includes your beach chairs.
When choosing a beach chair, you want one that can be folded into a handy, convenient package. This'll make packing for the beach considerably easier.
Thankfully, the vast majority of beach chairs are already foldable, meaning you won't have to look very hard to find one that ticks this particular checkbox.
If you do happen upon a non-folding beach chair however, we recommend immediately passing it over in favour of one that does!
4) Find a chair that combines function
and
form
Do you want to make a splash on the beach runway? 
 If so, you need beach gear that stands out, such as: 
And of course, you can't forget about your beach throne!
A good-looking beach chair is a crucial part of your beach ensemble. You want to look good while you're leaning back and relaxing, after all.
The problem is that many of the beach chairs on the market look cheap - we're talking about chairs that use poor quality fabric, use a lot of plastic parts (prone to failure) and which just look super plain, end of story.
We get it, beach chairs are functional first - however, that doesn't mean that you should settle for a boring beach chair!
Like the rest of our catalogue, our online beach shop exclusively stocks products that look the part.
With their stylish wooden frames and classic striped fabrics, our range of beach chairs look totally at-home whether you're at Brighton Beach or heading down the Peninsula for a weekend away.
5) Is your beach chair resistant to the elements?
Each of the beach chairs our online beach store stocks are carefully chosen for their practical features like their ability to handle weight and height-adjustability.
However, those aren't the only features we look at.
Let's start with UV resistance.
UV light is harsh, especially at the beach. Without UV resistant fabrics, you can expect your beach chair to start fading quickly - a quick way for your beach chair to go from "wow" to "ugh".
Another thing to remember is that the humidity and salinity of the beach dramatically speeds up rust, which is why we also make sure that our range of beach chairs are rust-resistant. 
While most of our beach chairs are made of wood, the screws holding them together are still metal!
Finally, we choose beach chairs made with mould-resistant material. If you're like most of us, your beach chairs spend most of their lives in cupboards, making mould-resistance an important consideration when doing your beach shopping.
6) Fun extras to keep an eye out for
Once you're done looking at beach chairs and have decided what you want, it's time to start looking at fun extras you can use to make your beach setup just that little bit cooler (and more functional!)
Pockets

Cup holders

Footrests
Can't find any beach chairs online with these extras? Don't worry - you can always buy them separately.
For example, the Angelique beach chair umbrella from Klaoos can be easily attached to most beach chairs, instantly turning it into a beach chair with Klaoos beach umbrella combo.
Get beach-ready with our online beach shop
Buying beach chairs should be easy, right? Just find something that's comfy and foldable that you can easily take to and from the beach. Simple as that.
Sure, you could leave it there - for serious beach enthusiasts however, that simply won't do!
If you're serious about having a great time at the beach, it may be time to think about refreshing your beach loadout before the warmer weather kicks in.
And our online beach shop is the place to do it, thanks to:
Our ever-growing range of stylish products

Carefully curated beach gear and accessories from all over the world

Sustainable brands that are genuinely making an impact
It can be hard to find one that ticks all of these boxes - luckily, we've done the legwork for you, singling out products from quality brands like Business & Pleasure beach chairs. 
Everything we stock - such as folding beach chairs, business and pleasure tommy chair, business and pleasure sling chair and red paddle ride 10.8 - are put through a rigorous beach test by our team.
And as major thalassophiles (it means beach-lovers!) ourselves, you can be sure that every product goes through the ringer before we decide to stock it!
First time here? We'll even throw in a 5% discount on your first order!
Click here to start shopping
, or
drop us a message
if you have any questions.