Ready to go, baby? 7 tips for baby's first beach trip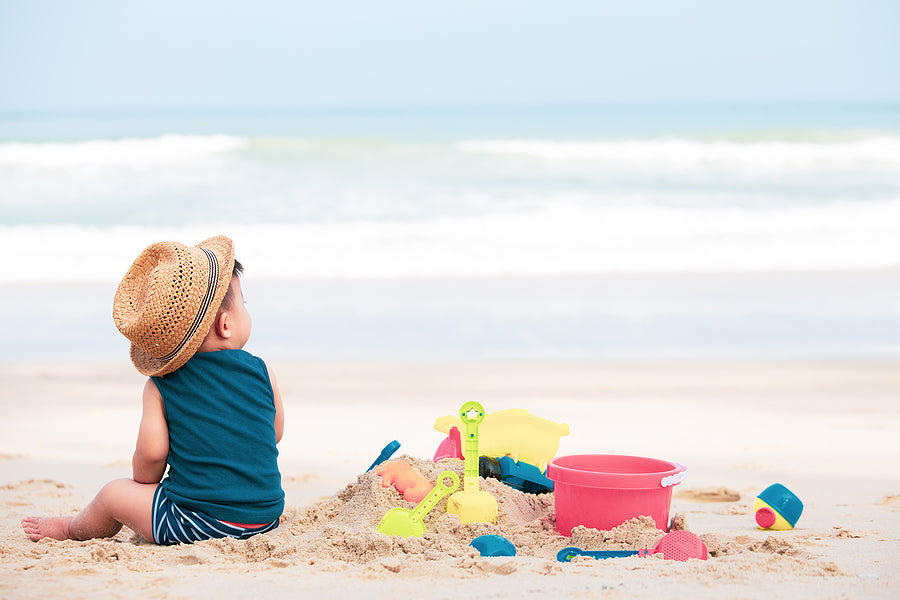 Which of your baby's major life milestones are you looking forward to most? Is it…
Their first word?

Their first steps?

Their first day of school?
Everyone has their own answer - for example, if we had to answer that question, we'd probably say their first day at the beach (but then again, we are a little bit biased there!)
And like all landmark events in your baby or toddler's life, you'll want to make sure that you're prepared for the best day out!
Beach time, baby! How to make your baby's first trip to the beach an all-timer
You remember piling into the family car during the peak of summer and heading down to the beach, windows down and radio blaring the whole way.
What followed was hours of sandcastles, beach cricket, and sun-kissed skin.
It's an essential part of growing up in Australia - one that you'll no doubt be eager to share with your baby.
Of course, as with all things baby, it isn't quite as simple as just taking them to the beach.
Babies are fragile, and as you've no doubt learned for yourself, kind of reckless. They'll touch anything they can get their hands on, and spend half their time trying to swallow it, too! 
Luckily, with the right planning, you can ensure that baby's inaugural trip to the beach (the first of many!) is one that'll be remembered for the right reasons, so long as you…
1) Set a sunscreen alarm
You (and your kids) are having a great time splashing in the water or building a sandcastle. 
Hang on, it's been a while... What time is it now? And how many hours does the sunscreen last?
Our childhood trips to the beach may have been defined by the inevitable sunburn - that doesn't mean your child's should be.
It's easy to lose track of time - luckily, you can make sure their first trip to the beach isn't followed up by days of red and peeling skin by setting up regular SPF alarms using your smartphone's clock.
Click here to check out our range of natural sunscreen.
2) Remember that sand is good, but don't overdo it
Let's just say that there's a very good reason that a lot of small toys come with a warning telling you to keep them away from kids!
Kids are reckless. Leave something around, and it's going to end up in their mouths, up their nose or tangled up in their hair.
As a parent, it's your duty to safely introduce your baby to as many new experiences as possible.
Sand will introduce them to new textures and stimulate their sense of touch - however, it's coarse, rough, irritating, and worst of all, it gets everywhere.
Needless to say, this can potentially leave a sour taste in baby's mouth long after the sand itself is washed out.
Our advice? Keep them on a towel, away from most of the sand. And if they're playing with sand, be sure to keep a close eye on them - and watch as curious hands full of sand head for their mouth!
3) Bring beach toys for kids!
We're talking about buckets, shovels, water toys...
Not only that, but you'll want to make sure you bring beach toys that are going to stand up to rigorous play - especially if you have slightly older kids. You don't want to precede every beach trip with a shopping trip to pick up a new set of buckets and shovels.
Each of the beach toys we stock at our online beach shop are carefully selected for their kid-friendliness. That means:
BPA-free

Tough construction to endure rough play

Quality products crafted to last
Most importantly however, they're just plain fun, end of story!
Click here to explore our range of beach toys for kids.
4) Slowly introduce them to the sensation of the water
Just because they're too small to venture off into the surf on their own doesn't mean that they need to stay dry throughout your beach trip - if you don't feel comfortable taking your child into the water just yet, there are other things you can do.
For example, you could bring your very own tiny inflatable pool to the beach, allowing your kids to enjoy the atmosphere from the safety of the shore.
Alternatively, fill up a beach bucket or shallow container with water and let them splash their hands around in there.
Add a cute toy like Plan Toys' Coastguard boat figurine and provide hours of entertainment for your little tots.
5) Keep hydrated
Let's face it, if you're going to the beach in summer, it's probably a warm day - you'll need to keep baby hydrated.
Is your baby still nursing? If so, you'll need to keep yourself hydrated.
If they're old enough to drink water on their own however, you'll want to bring plenty of bottles. Be sure to choose insulated water bottles that will keep your drink cool.
Nothing worse than taking a sip of lukewarm water when you're desperate to quench your thirst on a hot day!
6) Bring a shelter for baby's protection
Toddlers can be bouncing off the walls one moment, and then ready to fall asleep the next. 
Worse, there's no telling when they might start feeling drowsy - it could happen at any time during your beach day.
When this happens, you'll need shelter to make sure that they don't have to deal with sand and sun while they're recharging their batteries.
Not only that, but baby skin is sensitive - the last thing you want is a week-long tantrum caused by an avoidable sunburn!
Beach tents are a great way to protect your baby's sensitive skin (and save yourself from a tantrum), while beach umbrella Australia offer immediate relief from the hot sun. browse premium beach umbrellas from Business and Pleasure as well as Klaoos beach umbrella here.
7) Capture the moments!
We're all equipped with smartphones so snapping a photo at a moment's notice doesn't even take a second thought.
But why not consider something more memorable?
Polaroid cameras are a really fun novelty - and those vintage polaroid snaps look so cool in an album or photo collage!
They also make a perfect keepsake for your child for when they're older (or when you want to embarrass them at their 21st birthday!)
Ready, baby? Find all the beach gear you'll need at Boatshed7! 
We all have fond memories of going to the beach in summer. If you want your toddler to also develop memories like that, you'll need to make sure that you're prepared for their first beach trip.
That means planning, bringing a matador droplet wet bag, and of course, making sure you've got all the beach gear you need.
While we can't help you with the first, the second is no issue for us!
Our online beach shop stocks everything you need to make baby's first trip to the beach a memorable one.
Start shopping now - click here to explore our online beach shop.
Have questions?
Shoot us a message at this link
- we're more than happy to answer your questions!