Are you ready for the beach? Here's what you need to buy before summer starts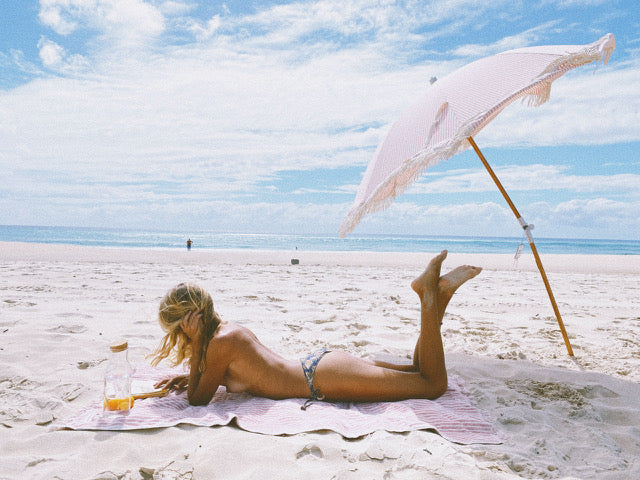 As beach lovers ourselves - why do you think we opened an online beach shop? - we spend a lot of time at the beach, whether it's for leisure, or to test out new beach products to add to our collection (one of the fringe benefits of our business venture!)
Since we go to the beach so often, we've got a system down that minimises the amount of time we need to spend packing - and we know exactly what you need for a safe, enjoyable, and awesome day out by the water!
Whether you're refreshing your beach ensemble in anticipation for another summer or you want advice when it comes to replenishing your supply of beach essentials, we've got you covered!
Start with the basics: beach essentials
What better place to begin your summer preparations than by stocking up on beach essentials?
Sunscreen, beach umbrellas, towels, hats - it's pretty common sense stuff.
If you ask us, your beach bag should have all of these essential pieces of beach equipment ready to go for when summer begins.
Of course, including these when packing for the beach isn't the hard part - the hard part is making sure that your beach essentials aren't cheaply made and set to break after just one summer!
Beach umbrellas
A good beach umbrella doesn't just protect you from shade - it should also be UV blocking.
It might surprise you, but just because it's blocking sunlight doesn't mean that it's blocking UV rays.
According to some studies conducted in Spain, up to a third of all UV rays could still make their way through an umbrella.
Fortunately, you can find stylish beach umbrellas in our online beach shop that not only look beautiful, but are UV-rated and will protect you from the sun's harmful rays.
Beach sunscreen
A lot of the UV rays you're exposed to while at the beach don't come from direct sun exposure, but from reflections, bouncing off the sand and water.
This is why it's so important that you're covered in sunscreen, even if you plan on spending all of your time in the shade!
Our range of beach sunscreen is made up of some pretty awesome Aussie and international brands, and offers protection against both UVA and UVB rays. 
Suitable for a wide range of skin types, these reef-friendly sunscreens and cocooil are a non-negotiable in your beach bag!  
Beach hats
If you ask us, a hat is not only a stylish choice for your beach ensemble, but a smart one, too!
Protect sensitive skin - like your ears, neck, and nose, with a quality wide-brimmed beach hat that offers adequate sun protection - and looks great!
Beach towels
Enjoy plush softness between you and the sand by including a beach towel in your beach kit.
Our range of beach towels aren't just gorgeous and great quality - they're also lightweight, generously sized and fast-drying.
Many of them even come with convenient carry bags to make it easier to lug them around!
Beach sunglasses
Did you know? Eye sunburn is real, and can turn a fun day at the beach into an unpleasant experience.
With a wide range of colours and shapes that suit a variety of different faces, you can find a pair of stylish beach sunglasses to suit your look at our online beach shop.
Luckily, sunglasses can protect you from this - provided that they're UV sunglasses, of course.
Best of all, a cool pair of shades will help you avoid uncomfortable squinting from the sun and glare, and offer protection from wind, dust, and sand. 
Now for the fun stuff: beach toys, accessories, and more
So you've got the essentials in order - the first part of your checklist is sorted!
Next up come all those additional accessories that turn your beach day from good to awesome!
Beach toys
Keep little ones entertained, engaged, and excited at the beach with our growing collection of beach toys and games!
From Plan Toys' adorable range of characters for the toddlers, to Waboba's Blast water ball and beach "cracket" set, kids of all ages are set for a fun day out by the water!
Beach coolers and eskies
Plan on having a beach picnic? Want to stop your snacks from melting or going off in the intense heat?
Our range of beach coolers includes both eskies and cooler bags in a range of different sizes, allowing you to keep your snacks fresh while you're busy playing in the sand or splashing in the water.
Beach chairs
The ultimate luxe accessory for ultimate comfort on the sand: our range of high quality beach chairs has you covered!
Whether you're napping, reading, tanning or simply want to sit on something that gives you a bit more support, our chairs are comfortable, sturdy and fold down for easy transport!
Beach floats
When people imagine beach floats, they think about water rings and pool rings.If you want to relax on the water, our beach floats are just what you're looking for!
While our online beach shop stocks each of these, it doesn't end there.
On top of traditional rings, we also offer more extravagant floating options, designed to get you noticed!
All the beach gear and accessories you need for a fantastic day at the beach
Beach days can be a blast - provided that you have good weather on your side and pack the right beach gear, that is!
And while you can't control the climate, you can control what you bring with you on your beach trip!
You've got a destination, as well as RSVPs and a date for your summer escape - everything's coming together.
Now all that's left to do is to gear up for your beach adventure!
Hit the beach in style this summer by giving our online beach shop a visit.
Whether you're looking for the essentials or want to add to your beach ensemble with some neat extras, we've got you covered.
Don't wait for summer to kick in - click here to start shopping!