Boatshed7: Australia's ONLY stockist of The Nice Fleet floats!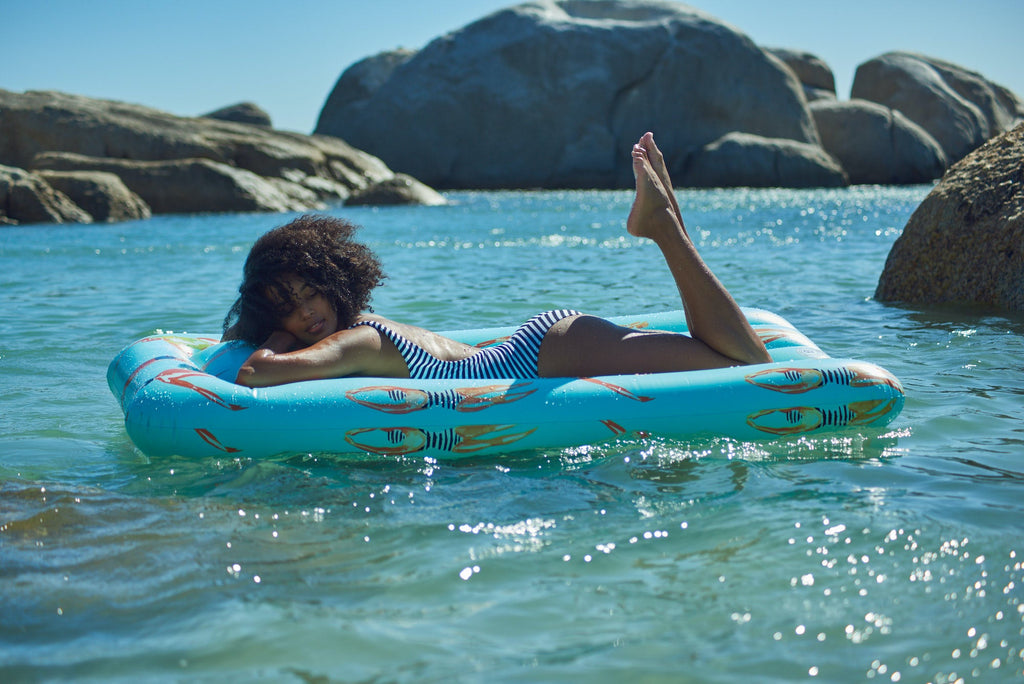 Beach envy is real, folks!
Sure, it's only for a moment - you're at the beach with your friends and family after all, it's impossible to be upset for long. However, it's enough to make your setup feel ever so slightly inadequate by comparison.
Want your beach ensemble to be the envy of the rest of the beach?
If so, you'll need to start with your beach gear!
Luckily for you, our online beach shop has just what you need...
Look chic on the beach with The Nice Fleet beach floats
If we're talking beaches, Australia's are some of the best in the world (we're not biased, we swear!)
Nobody does beaches like we do. Beach fashion, on the other hand? That's a different story.
When it comes to looking stylin' while you're at the beach, we have to admit the French have us beat there.
So what better place to start if you want to look chic for your next trip to the beach?
The Nice Fleet's huge range of styles are imported straight from France's Mediterranean coast and take inspiration from designs fresh off the runways (and beaches) of the world.
Specialising in stylish beach floats, The Nice Fleet can make you the envy of the beach next summer!
And thanks to our exclusive agreement with The Nice Fleet, you can bring a certain sense of European style to your next beach or pool trip!
La haute couture
at the beach
Designed by a team of experienced designers with years of experience in the fashion industry, The Nice Fleet's range of beach floats reflects the latest European styles - something that few other beachgoers will be able to show off.
Don't settle for generic - the Nice Fleet's inflatable floats are inspired by world-famous beaches ranging from Spain's Formentera, to Mexico's Tulum, to Stinson in California.
Each beach float takes inspiration from the beach it's named after, with colours and patterns carefully selected to match the vibe and feel of its namesake.
Quality beach gear in Australia
Let's face it: a lot of beach gear on the market (beach floats included) are cheap and poorly made.
You know what we're talking about. Cheap stuff that may save you a buck initially, but which fades in the sun or bursts after a single trip to the beach.
The bottom line is they won't last you for more than a summer. And that begs the question - why do we choose to settle for that?
The Nice Fleet doesn't just make beach gear that looks good - their range of beach equipment is also miles ahead of that other cheap stuff in terms of quality, as well.
Long story short, you won't need to worry about colours fading, or having to deal with crinkly, uncomfortable beach floats with The Nice Fleet.
Of course, it isn't just the build quality that sets them apart...
Ethical and safe beach floats
A lot of the beach gear you'll find at your local store aren't just cheap and nasty looking - in many cases, they also cut corners in terms of manufacturing.
A cheap product comes at the expense of the environment and your health.
The Nice Fleet's beach floats are subject to strict EU regulations, and undergo chemical and physical controls to ensure that they're safe for you and your family.
They're also 100% BPA and phthalate-free, meaning you won't have to worry about your health while you're in the water.
Not only that, but they're also better for the environment too!
We Aussies love our beaches. By choosing a fully recyclable beach float from The Nice Fleet, you won't have to worry about your beach float sitting in some toxic landfill somewhere when it reaches the end of its life.
It might be cheesy, but the old adage runs true: you really do get what you pay for!
Australia's only official The Nice Fleet retailer
Buy The Nice Fleet online at Boatshed7!
Unfortunately, you won't find such exclusive beach gear at your local department store. No, you need to dig deeper.
Luckily, you don't need to go down dark alleyways or meet trench coat-clad figures late at night in car parks.
Boatshed7 holds the only distribution licence for The Nice Fleet in the country, so if you're looking for The Nice Fleet floats in Australia, shop online now with Boatshed7.
Not only that, but you'll also be covered by our generous return policy that covers most purchases (whether full-price or discounted). And that includes change-of-mind as well!
Get summer-ready with Boatshed7
Are you a lover of travel and new cultures, of bold colours and innovative fashion-forward designs, and of spending time at the beach?
Funny you should say that, because that's exactly what The Nice Fleet was founded on.
It's also what drives Boatshed7, too!
Naturally, we had to reach out to the folks at The Nice Fleet to bring their products to Australia and ensure they were available for you to take to your favourite beach!
In addition to The Nice Fleet, our online beach store stocks everything you need to get summer-ready:
Stop envying others and become the subject of theirs - click here to explore our online beach shop and get ready to enjoy your best summer yet!
Have questions? Chat with us online or get in touch here.
P.S.: Heading out for a day at the beach? Be sure to tag us in your pics using
@Boatshed7
!