Beach vibes only! 3 creative beach games for active teens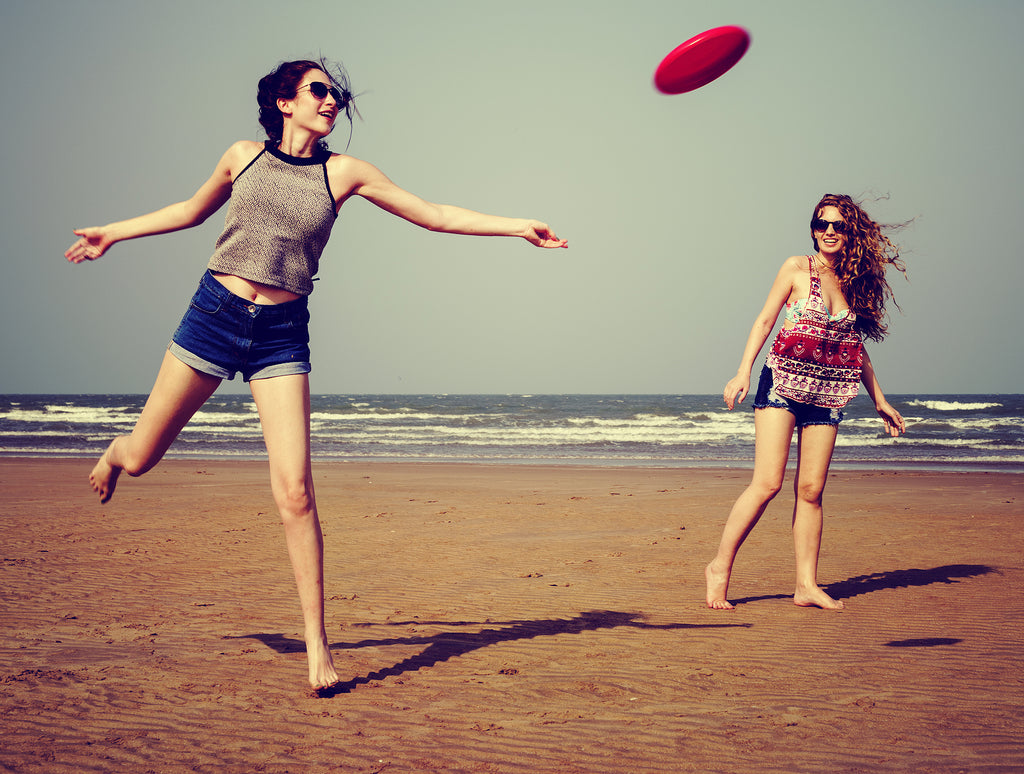 Any parent with teenage kids knows that at times, teens can be, shall we say, moody.
Luckily, we can think of one thing that's pretty much guaranteed to bring their inner-child out of hiding: a trip to the beach.
And what's a trip to the beach without some beach fun beach games on the itinerary?
Of course, they're not kids anymore. If you were thinking about bringing out your old bag of beach gear, you might need to think again.
The beautiful thing about going to the beach with teens is that now that they're bigger, you can get away with involving them in a lot of the same beach games as adults without having to pull your punches.
Let's be real, they're probably going to wipe the floor with you - being 30-plus years younger will have that effect.
But that's neither here nor there - you're here to get ideas for beach games for teens…
Water dodgeball
Dodgeball is great. It's fast-paced and hectic, it rewards quick reflexes and best of all, it's 100% action - no risk of kids getting bored, that's for sure.
And that's what makes it such a great game for impatient teens and tweens.
Not to mention, the sand and water at the beach level the playing field, allowing the grown-ups to get a bead on your younger, more energetic competitors (you'll thank us later).
Want to shake things up even further? Make things even more exciting by taking things to the shallows and implementing rules that let you take cover by diving underwater. We expect to see some dramatic belly flops coming out of this!
All that's left to sort is the question of balls.
If you want our advice, we suggest bringing along a set of Waboba balls and using them as your "ammo" for dodgeball.
On top of regular beach balls like soccer balls and volleyballs, Waboba also makes a unique range of water balls.
Unlike regular dodgeballs, these Waboba water balls skim and bounce on water, allowing you to pull off some unexpected trick-shots on your opponents!
Beach ultimate frisbee
Ultimate frisbee is what happens when you take netball, touch football and gridiron, and throw them into a blender, before replacing the ball with a frisbee.
If you ask us, it's got a little something for everyone, which is exactly what makes it such a good bet if you're bringing a bunch of teens or tweens along with you to the beach!
We suggest starting out by giving the rules a quick read.
Once you're up-to-speed, you'll need to get your hands on a frisbee.
Luckily, our online beach shop has you covered - rather than use a cheap $2 Shop frisbee (that will probably break after a single summer), we suggest...
Waboba's Sky Rider Sport

:  this aerodynamic frisbee is designed to fly farther, longer and more accurately
Water cricket
You heard us right: water cricket, not beach cricket!
Beach cricket is a staple of Aussie summers - and if you go to the beach regularly, it's probably something you've all participated in countless times.
It's a classic, and a guaranteed hit no matter the age. It doesn't matter that they're teens now, a game of beach cricket's going to make it feel like they're 10 again (only now, they can throw and hit farther).
The problem is that you're limited to playing on the sand and missing out on half of the fun that comes with a trip to the beach.
Luckily for you, Waboba doesn't just make beach balls - they also make an awesome water cricket set that allows you to take your game from sand to sea.
And that completely changes up the dynamic.
If beach cricket's starting to get a little bit stale, this is the way to shake things up.
Got the right beach equipment? Our online beach shop has you covered!
Whether you're going down to the beach for a week or just heading down to the local bay to escape the heat, the right beach equipment is a must.
And we aren't just talking about all the things you'll need to play these beach games, either - it's important that you have all the basics covered, like:
We've got everything you need to have a stress-free and awesome time at the beach.
What are you waiting for? Click here to start shopping!