The beach is calling: fun games & beach toys for kids!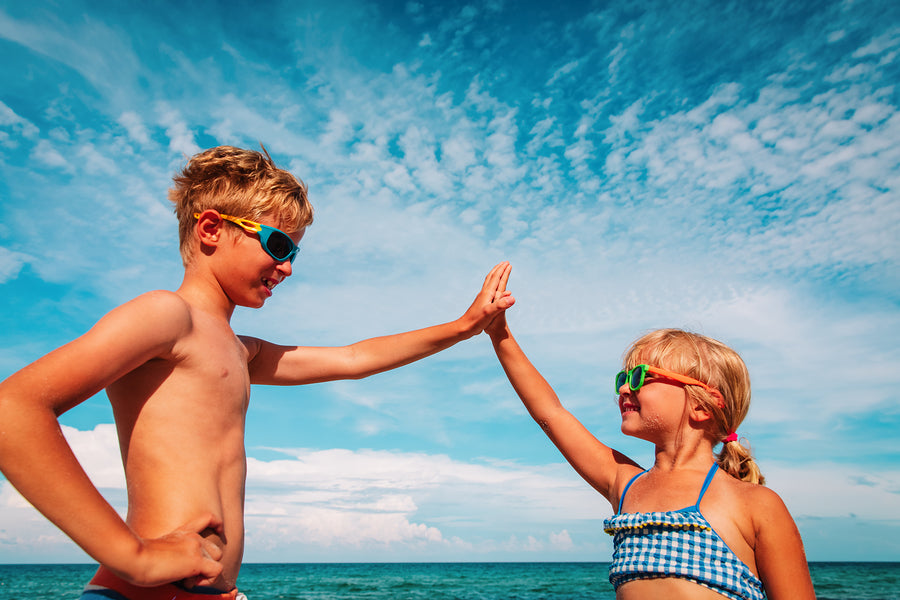 Hours of fun in the waves. Countless opportunities to explore. No entry fee.
Say no to play centres; the beach is where it's at!
Your kids will have a great time at the beach, resulting in hours of creative and unstructured play.
That said, having a list of ideas for beach activities in your back pocket can make all the difference between packing it all up after an hour, and having to drag the kids away after several!
Of course, you'll need ideas first (as well as an idea of what sorts of kids beach toys you'll need to make it happen!)
Luckily, we've got some ideas to get the ball - and good times - rolling...
Beach cricket
When at the beach, cricket is a must.
After all, summer and cricket go together like fish and chips - no trip to the beach is complete without a couple of overs.
Not only is beach cricket fun for all, but it's also a great way of fitting a little bit of cardio into your kids' day.
This one's a classic Australian staple - and for good reason!
Required: a cricket set (naturally!)
Water sports
You're at the beach, with all the water in the world a short walk away from where you've set up on the sand.
It'd be a waste not to mention some of the water-based activities you can fit into your day out!
Need ideas? We've got plenty of them!
Water tiggee

Races and relays

Octopus

Water volleyball
Fun isn't the only thing your kids will get out of these activities - they'll also come out the other end with more confidence around the water and in their swimming abilities.
Required: nothing at all - just the beach and a good attitude (and maybe a little competitive nature, too!)
Optional: Water toys, including this awesome water ball from Waboba that bounces on water!
"Do you wanna build a
sandman
?"
You can make literally anything out of sand with enough patience - why limit yourself to the humble castle?
The options are endless:
If your kids are big into construction toys, we've got kids beach toys that are perfect for sand sculptures like our Construction Scooper - made from recycled plastic from our friends at Green Toys.
Required: nothing, besides from some patience and a truckload of sand (luckily, there's plenty of that lying around!)
Optional: buckets and scoops
X marks the spot! Beach scavenger hunt
You've gone to the beach a thousand times
And every time, you've always secretly held out hope that you'd be the one to stumble upon a long-lost chest of gold and booty.
While you never struck gold (figuratively or literally), that doesn't mean that your kids can't!
We love the idea of listing a number of common items you'd expect to see on the beach, and handing the operation over to the little ones.
They'll then spend the afternoon searching for each item, whether that's a blue beach bag, a unique seashell, something round, or even the cutest puppy on the beach!
Required: imagination - plus a little bit of prep time!
Optional: beach shovels and buckets to look for treasure; pirate garb (optional, but highly recommended!)
How low can you go? Limbo at the beach
Limbo is one of those activities that can look so silly - but simultaneously deliver some really good belly laughs!
There's perhaps nothing more amusing than watching kids, adults, and everyone in between contorting their bodies as they attempt to move under the pole!
And of course, if you're going to limbo, you'll need some tunes to go with it!
Required: a bar or rope; a Caribbean playlist
Optional: Turn the music up as the bar goes low with the WOW Waterproof Beach Speaker
Get geared-up for summer with beach toys (and more)
Boatshed7 is your one-stop online shop for beach gear in Australia!
We make it no secret that we're not the biggest fans of winter.
But it helps to remind ourselves that summer will return, just as it has done every year before this one!
In the meantime, you can keep yourself distracted by thinking about everything you're going to do when the weather improves and you can go to the beach again.
Another thing you can do in the meantime?
Take stock of your kids beach toys in a matador backpack and determine whether or not they're appropriate for the summer to come:
Are they good quality - will they last another summer?

Have they been made using recycled materials?

Will they fall apart the first time you take them out?
The last thing you want is cheap, nasty kids beach toys marring the experience.
With our huge inventory of pool and beach equipment, we're ready to make your summer one that you won't forget!
And importantly, we love supporting eco-friendly businesses that share our vision for a more sustainable day out at the beach!
Get prepped for your best Australian summer yet with Boatshed7:
Shop online today with Boatshed7 and enjoy fast delivery Australia-wide and to more than 250 countries.
Got questions? Chat with us now - we're online and ready to assist!
We love seeing people have fun with our products on the beach, so be sure to tag us in your Instagram pics by using
@boatshed7
!