All the beach gear you need for a fantastic day out with the kids!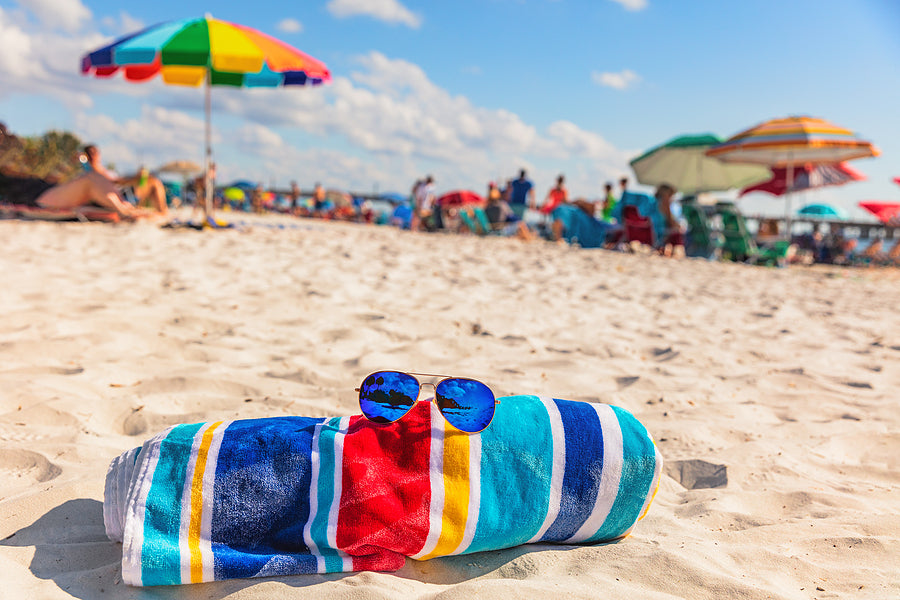 It's your kid's first time at the beach, and you want to be ready.
You've hyped them up, checked the forecast and found them an absolutely adorable set of swimwear.
Everything's set… almost.
We've got a question for you: how's your beach ensemble looking? Is it ready for a day out by the sea?
You have the best bech chair and the best beach umbrella. But if it still needs a bit of work, perhaps it's time to browse some awesome new beach gear online, with Boatshed7!
Dry off and lounge in style with our beach towels
Everyone loves the beach. Something we don't quite love as much? Sand!
It's course, and rough, and irritating - but a beach towel acts as an instant protection (and not to mention comfort) between you and the sand when you're lounging by the water sipping an ice-cool drink or little ones are playing with their toys.
Anyone who's ever gone to the beach with toddlers and babies gets it. Young kids in particular have this aggravating habit of trying to eat everything they come across, and not really giving a hoot about their cleanliness.
While beach towels aren't a cure-all, they can help keep your kids comfortable by the sand.
Make a fashion statement with our range of beach towels
Sure, you could get away with taking an ordinary towel and using that as a beach towel.
But how would that look?
While we don't really think of it as one, the beach can be a mini catwalk. Trust us, beach envy is real - that's what drove us to create Boatshed7 (though that's another story)!
When it come to choosing a beach towel, you want one that:
Is lightweight

Will dry quickly

Looks fantastic
Luckily for you, our online beach shop has just what you need to make a splash, with a range of stylish, large beach towels that you'll be able to use whether you're at the beach of just chilling by the pool.
Check out our range of beach towels.
Protect your skin with our range of natural sunscreens
Sunburn stinks! It's painful, uncomfortable, and so bad for our skin.
Now put yourself in your kids' shoes - especially if they've never experienced sunburn before - what is this stinging? Why is their skin peeling off?
Your kids will inevitably have their first sunburn at some point - however, it doesn't have to be today.
With the right sunscreen, you can make sure that this trip to the beach isn't marred by sunburn - not only that, but it's important to ingrain good habits early on!
What do you need to look out for when buying sunscreen for kids?
When buying sunscreen for kids, you don't just need to look for a product that will keep your kids' skin safe from harmful UV rays - you'll also need to find sunscreen that kids will WANT to put on!
Make applying sunscreen an exciting part of preparing for a day at the beach, rather than a boring, compulsory step.
Our range of sunscreen and cocooil also includes kid-friendly products that are easy to apply.
On top of being suitable for all skin types, offering broad spectrum protection against UVA and UVB rays, and being completely toxin-free, our kids' sunscreen also:
Comes in a range of fun packaging

Include glitter and sparkles

Doubles as

insect repellent

!
Tempt them with bright colours and cool sparkles, and kids will be begging you to break out the sunscreen bottle!
Tip: apply sunscreen before you've left the house, and immediately set a timer on your phone for when it's time to reapply. 
Browse our online beach shop for an extensive range of sunscreen.
Kids' beach toys
You mightn't think kids' beach toys aren't exactly mandatory, but if you're a parent yourself, you know that the right beach toys can turn a good day into a great one!
Whether you've got little ones refining their motor skills by using a shovel and bucket in the sand, or playful, adventurous kids creating their own adventures with trucks, boats, and seaplanes, beach toys are an awesome (and usually necessary!) part of your day out.  
Buy beach toys online
Of course, "fun quality" isn't the only thing we look for when looking at products to add to our range of beach toys.
There are three main factors we look for when choosing beach toy brands to add to our catalogue:
They have to be fun, of course

Durable, high-quality, and built to last!

Thoughtfully manufactured and packaged
A lot of cheap beach toys are filled with all sorts of unpleasant chemicals and substances. We're talking about things like BPA, PVC and phthalates, which can bleed into the ocean and harm our already endangered sea life.
So avoid cheap and nasty toys that'll hardly last more than a summer. Instead, check out our range of sustainable beach toys for kids.
A good attitude!
Finally, you'll want to make sure you (metaphorically!) pack a good attitude when preparing for tour day out at the beach.
Remember, little ones get tired easily, and all that running around, plus the sun and the heat, can result in some grumpy kids.
So, set a time limit, and the moment you notice morale begins to drop and whinging starts, consider packing up and calling it a day. 
Additionally:
Ensure you pack water and snacks (keep you water cool with these awesome

insulated drink bottles

from Coconene)

Consider going early or later in the day to avoid peak beach go-ers (and the time of day when the sun's rays are strongest!)

Pack a kid's book in case little ones need a break

Bring a rubbish bag and easily dispose of any waste when you get home (bins at the beach are often few and far between, and usually filled to the brim already)

Pack bug spray, baby wipes, and store your keys and mobile phone in a ziplock bag

Bring a matador droplet wet bag

Only leave behind your footprints in the sand when you head home
Are you beach-ready?
Get ready for summer with our online beach shop!
Avoid a meltdown and instead enjoy a great day out with the family, thanks to a little prep work and Boatshed7's online beach shop!
We're your one-stop shop for the coolest beach equipment and accessories from the world's best brands.
Need to stock up for the coming summer? We've got you covered!
Click here to start shopping
!