Australia's best surf beaches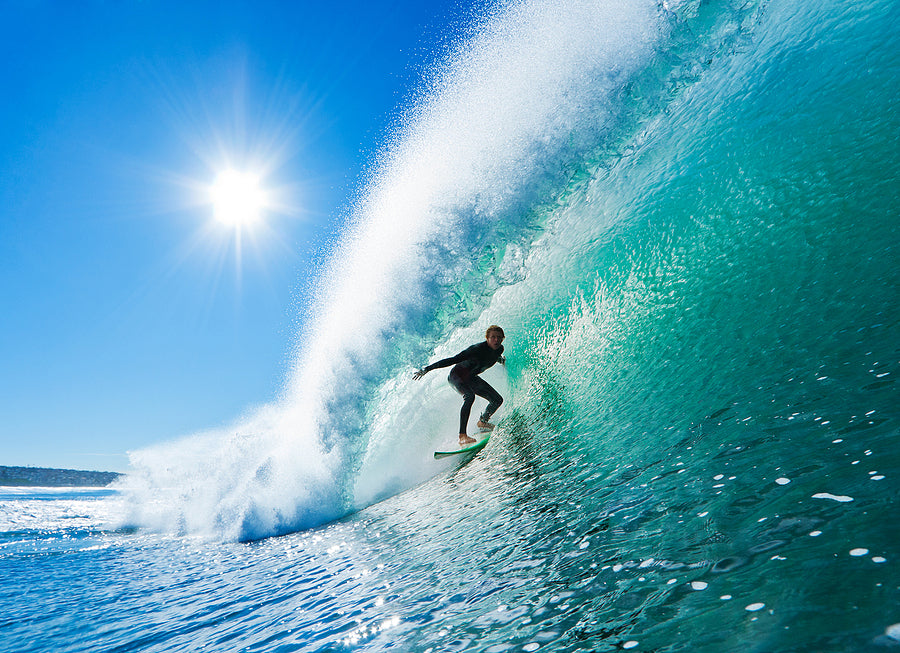 Luckily for us Aussies, we live in a huge country that has all of our holidaying needs covered.
While we won't be heading overseas this Christmas, we can still enjoy amazing experiences  in our own backyard.
And what better way to spend a long hot summer than down at the beach?
Bali, Hawaii and Rio: who needs them? We've already got some of the world's best beaches, right here.
If you're still mourning over your now-abandoned overseas holiday plans, don't - with countless beaches (we're literally surrounded by them), you needn't look far to find a great summer holiday alternative.
This week, we're shining a spotlight on some of Australia's best beaches - and sharing all the best beach equipment you need for an unforgettable summer. 
Australia's best surf beaches
Whether you're a hardcore surfer or you're still getting the hang (no pun intended) of using a board, Australia has you covered with its huge range of surf beaches. With almost 37,000kms of coastline, it's practically unavoidable.
In no particular order, we've put together a list of some of Australia's most notable breaks. 
While you don't need to limit yourself solely to these spots (you can find great surf pretty much anywhere), they're great starting points for your holiday plans.
Whether you're a beginner surfer, a veteran that's eager to get back into the water after a whole season indoors or you simply want to go a little further afield for the family's annual beach holiday, these world-class surf beaches are a great place to begin summer holiday planning.
Surfers Paradise, Queensland
It's right there in the name for crying out loud!
While surf hipsters might raise an eyebrow, we're including it in the list anyway because not only is it a great place to catch a wave, but it's also a tourism Mecca, with all sorts of restaurants, hotels and more to enjoy between waves.
Venture slightly further north or south of Gold Coast and Surfers Paradise proper, and you'll find quieter surf beaches off the beaten track like Rainbow Bay for beginners and Currumbin for more advanced surfers.
Margaret River, WA
While Margaret River is known for its vineyards and whale sightings, it's also home to a thriving surf scene and 130kms worth of breaks, ranging from intermediate to advanced. 
Case in point: Main Break, which is home to some of the wildest waves in the country.
Of course, it isn't all huge swells here - novice surfers can breathe a sigh of relief.
Located to the north of the region, Yallingup is considered by many the best all-round surf spot west of Adelaide, with waves for all skill levels and tastes.
Noosa Heads, Queensland
Not only is Noosa Heads home to fantastic waves for both beginners to learn on and for pros to hone their technique, but as a national park, it's also an untouched natural paradise as well.
You needn't trek far to find what you're looking for.
Our recommendation? Bring a longboard with you and make sure to head out at low tide to find the longest, smoothest waves.
Byron Bay, NSW
Byron Bay isn't just the eastern-most part of the entire country - it's also home to one of the best surf beaches.
With beginner and advanced surf spots running the length of the bay, this beach is packed with surfers all year round.
If you're an advanced surfer, we suggest heading straight to The Pass near the lighthouse for some of the best waves.
Bells Beach, Victoria
Bells Beach has many claims to fame - in addition to being the setting of the final scene of the classic 90s action flick Point Break, it's also home of the world's longest-running surf competition, the Rip Curl Pro.
And really, that should tell you everything about this beach's pedigree.
Bells Beach is a big deal in the surfing world. With 5-metre waves and powerful swells, this is the place to be for advanced surfers and curious onlookers alike.
Great Ocean Road, Victoria
OK, so it might be cheating to list an entire stretch of coast here - but that's because there are so many great surf spots that it's almost impossible to choose only one or two.
From beginner-friendly spots like Apollo Bay and Cape Otway to more advanced beaches like Easter Reef, the Great Ocean Road is absolutely covered in great surf spots.
Whether you're going down with the express purpose of catching a wave or simply want to make an addition to your existing holiday plan, this 243km scenic road has all the surf spots you could ever wish for!
Ready for summer? Get your beach gear sorted at Boatshed7!
From beach essentials to beach gear, accessories, and toys, we've got everything you need for a memorable summer…
Sun protection
When it comes to protecting yourself against the sun, it's crucial that you pack things like:
Of course, any old products just won't - while your french beach umbrella might block sunlight, unless you choose one that's made with UV-blocking material, the sun's damaging rays can still penetrate the material, leaving you with a sunburn anyway.
Each item we stock is chosen for its UV resistance - not only does this protect you, but it also minimises the risk of fading after extended use!
Beach essentials
There are some things you can't get away with not bringing to the beach, whether it's a fishing trip, a surfing trip or just a quiet day away from everything else in your life.
For example, you're going to need to bring a beach towel with you to dry off, regardless of whether you're lying on the sand or spending the whole day in the surf!
In addition to sun protection, our online beach shop stocks all of the beach essentials - and with the weather starting to warm up, now's the time to check whether or not your beach ensemble is ready for another season outdoors!
Beach entertainment
We've spent most of this article talking about surf beaches - of course, that isn't all you'll be doing while you're there.
In fact, if you're like most, the lion's share of your time will be playing in the shallows, making sandcastles with the kids or laying on the sand with your latest book.
For most of us, our beach trips are a lot more relaxing - and there's nothing wrong with that!
If your plans are a little less adventurous, we've got a range of:
Beach toys for kids

Cooler bags and eskies

Beach cricket sets

Waterproof beach speakers
Whether you're there to relax or play games, we've got just what you need to turn your beach day from good to great!
No matter what the beach means to you, our online beach store has what you need for the coming summer. There's never been a better time to upgrade your beach ensemble!