4 summer must-haves for toddlers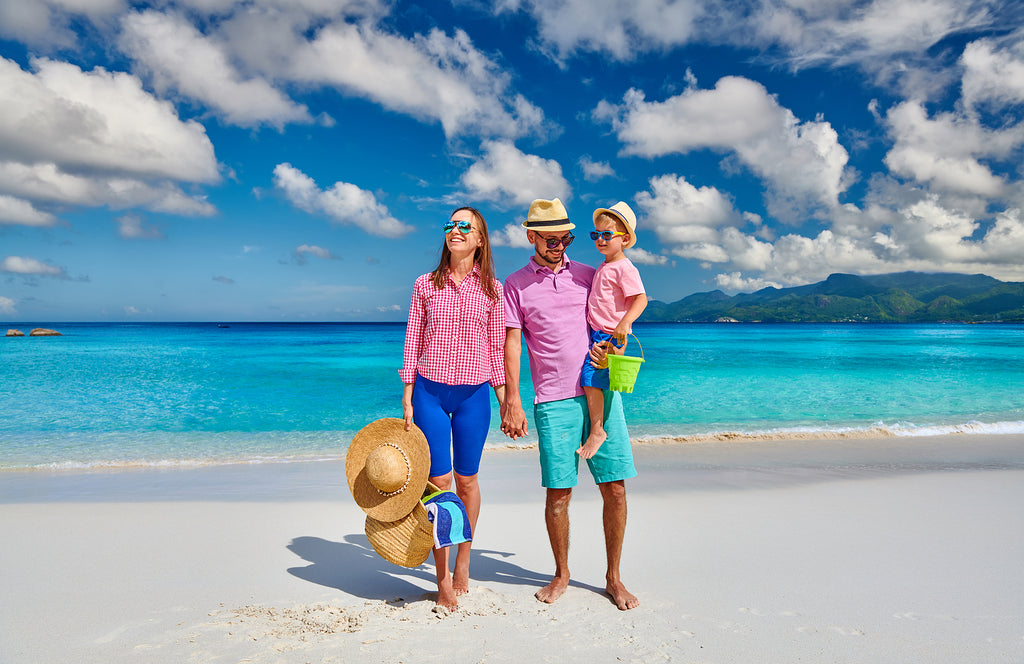 Many people don't put an awful amount of planning into our beach trips - for them, "planning" a beach trip boils down to:
Choosing a beach

Checking the forecast
After that, all you need to do is turn up, claim a spot and start having fun.
Of course, things change when you're bringing a toddler with you.
Here's a simple guide to help get you started with beach essentials for a memorable day by the ocean, with little ones in tow.
1) Bring beach toys
Toys get flung around, dropped, smashed together, you name it - it's tough being a toddler's favourite toy.
Now add the inherent salinity and UV exposure that comes with a beach trip into the mix and hit blend, and you end up with a series of conditions that make "beach toy" the most dangerous occupation in the toy kingdom.
Many beach toys just aren't suitable for this type of rough play due to their cheap and flimsy materials.
What's more, a lot of them also contain BPA and other toxic chemicals. Not only is this bad for the environment, but they can also pose a health risk to your kids - just think about how many of your toddler's toys end up in their mouth throughout the day.
Our range of green and eco-friendly beach toys for sand and water play are carefully selected to ensure that they're strong enough to stand up to rough play and protect the health of the oceans and your little ones.
Finally, they're just plain fun too.
In addition to staple beach toys like buckets and beach shovels, items like Green Toys' submarine are sure to be big hits with your toddler - not to mention, they can also be used at the pool and in the bathtub, too.
2) Beach sunscreen to protect your little one's skin
Going to the beach for the first time is a lifelong memory that your toddler's going to hold onto for years to come.
One experience that's not quite as pleasant however? The risk of sunburn that comes with it.
Luckily, sunburn is easily preventable with the right planning (and of course, the right beach cocoil sunscreen).
Just one question: what sort of sunscreen should you choose to protect your little one's skin?
Toddlers' skin is sensitive - while not quite as delicate as baby skin, it's more vulnerable than yours. Not to mention the grim fact that early sunburns can double the odds of skin cancer further down the line.
Not only does the sensitivity of young skin make them more vulnerable to sunburn, but it also means that you'll need to be picky about what sunscreen you choose for them.
According to Cancer Council Australia, it's best to minimise sunscreen use for babies under 6 months old (instead ensure they're wearing loose, tightly-woven coverings and kept in the shade).
Babies aged 6+ months, toddlers, and kids should be introduced to the importance of high quality beach sunscreens.
Made without the harsh chemicals found in other products, these sunscreens are specially formulated to be gentle with the widest range of skin types possible - and that includes delicate toddler skin.
3) "Let there be shade" - the importance of bringing a beach umbrella
While sunscreen is important, for toddlers and young children, it can also be a bit of a risk while their skin is still so delicate.
In these cases, the best thing you can do to protect your toddler's skin while at the beach is to give them shade with a UV-rated beach umbrella.
Our Klaoos beach umbrellas offer an extra layer of protection. With special UV-resistant coatings, these umbrellas protect you and your kids from the dangers of UV light.
4) Bring a towel
Not only is a beach towel essential for drying off when exiting the water, but it also doubles as a comfortable mat for kids to sit on when they want to chill out on the sand.
Alternatively, a towel robe for kids is perfect to slip on after a dip in the ocean - and keeps kids dry in the car on the drive home. 
(These robes are also available in men and women's sizes, so changing out of a wet bikini or wetsuit is no longer an embarrassing moment waiting to happen.)
Get everything you need for your toddler's first (or second, or third) summer with our online beach shop
Whether you're going down to the beach for a weekend getaway or preparing for a day at the local pool or park, ensuring the safety and joy of your toddlers during a summer's day out requires careful planning and of course, the right gear.
All of our products are rigorously tested - we put each of them through the "beach test" and talk directly with manufacturers before choosing to add products to our ever-growing catalogue.
We put them through the ringer - and that means:
You can be confident all of our stock is child-safe

That products are crafted to the highest standards

They'll last - surviving multiple summers and tons of rigour from kids!
Click here to start shopping
!