Shade is so important on the beach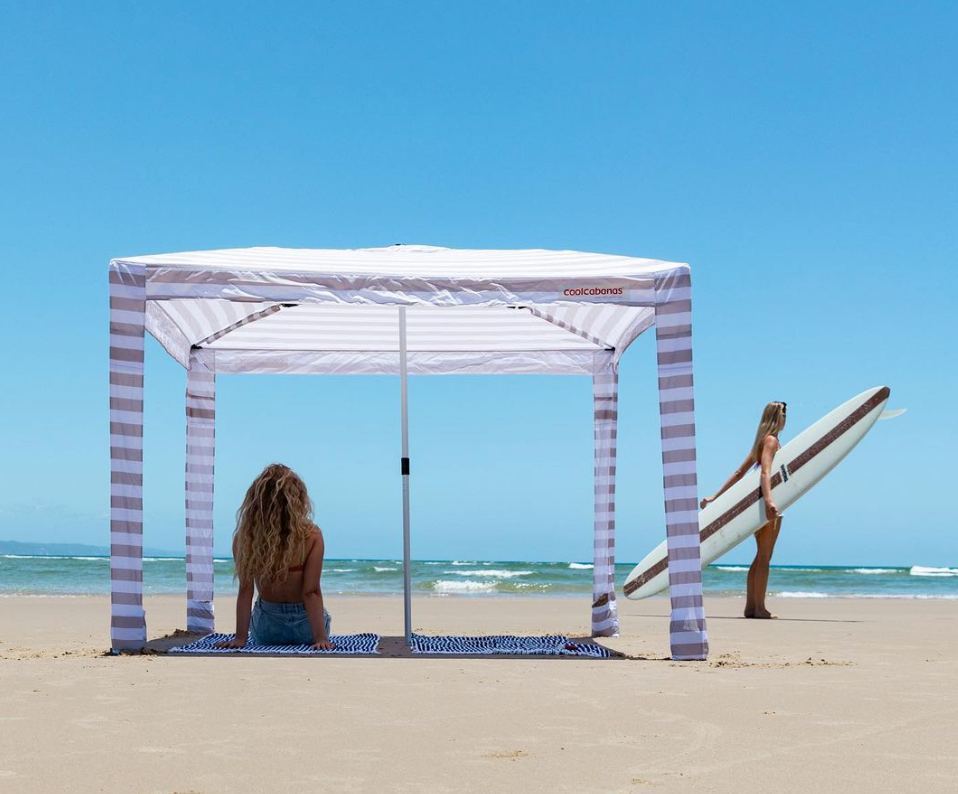 Enjoy the Australian Summer of 2023 with Style and Shade
When it comes to the Australian Summer of 2023, the beach is the ultimate destination to relax with friends and family. The sun can be scorching, and the waves are calling your name. But how can you enjoy the beach and stay chic while getting relief from the hot summer sun? The answer is simple: a beach umbrella or cabana is your secret weapon.
Heading to the beach in style this summer is a must, and the beach umbrella or cabana is an essential seaside accessory that not only protects you from the sun's harsh rays but also provides a refreshing space to relax. So, what should you look for when buying a beach umbrella in Australia this season? Let's dive in.
The Evolution of Beach Shade
The humble beach umbrella has come a long way. It has evolved from a flimsy and cheap item you replace every summer to a durable, stylish, and high-quality accessory that can last for many seasons. In this day and age, there are several essential considerations when it comes to finding the right beach umbrella in Australia for the Summer of 2023.
Material Matters
The materials your umbrella is made of are crucial. Not only should it offer shade, but it should also protect you from the sun's harsh UV rays. Look for beach umbrellas made from materials that are eco-friendly, sourced from recyclable materials, and can be recycled when their beach days are over.
Colors and Patterns
Beyond the typical styles, beach umbrellas now come in a wide array of patterns and colors. Whether you prefer bold and bright or a chic pattern reminiscent of the Italian Riviera, you have plenty of choices to match your personal style this summer.
Sturdiness Matters
While the beach is a place for relaxation, it can also be quite windy at times. Therefore, it's essential to choose a sturdy umbrella that is purpose-built for the beach. Look for umbrellas with strong, durable materials like long timber poles, aluminum components, and UV-resistant fabrics to ensure your umbrella can withstand all the elements that come with a day by the sea.
The Best Beach Umbrella Brands
When it comes to finding the perfect beach umbrella or cabana for your Australian Summer of 2023, several brands offer a wide range of stylish and durable options. Here are a few favourites:
Sunnylife: A quintessential Aussie brand, Sunnylife beach umbrellas come with a complimentary carry bag, making them easy to transport. Their UPF50+ material and vibrant patterns will keep you stylish and shaded.

Backbeach Lane: Inspired by the Mornington Peninsula, these quintessential striped beach umbrellas will help you capture an endless summer with style. Backbeach Lane and Pipis of Rye are both favourites of ours.

Business and Pleasure: If you want to stand out at the beach, look no further. These bright and funky 80s-inspired prints are sure to catch everyone's eye.

Coolcabana: Aussie made on the Queensland coast. A popular choice for beaches without a lot of wind. You'll see Coolcabana on most metro beaches around Austyralia. Great colour choices. Very very sturdy.
Beach Umbrella or Cabana?
Both beach umbrellas and cabanas have their merits. Beach umbrellas are great for most beach-goers, but for those who spend long hours on the sand during the summer, a practical and durable beach cabana can provide extra shade and comfort. Both are very simple to put up.
Shop Stylish and Chic Beach Umbrellas
Boatshed7 is your leading Australian supplier for all your beach shade needs, ensuring a fantastic day out for you and your family during the Summer of 2023. In addition to our growing range of beach umbrellas, we offer reef- and eco-friendly sunscreen, soft, plush beach towels, colorful beach toys, sturdy beach chairs, and much more.
Make Boatshed7 your one-stop online beach shop and explore our collections to prepare for a memorable Australian Summer in 2023. Enjoy the sun, surf, and style while staying comfortably shaded under your chic beach umbrella.