How to find the best beach umbrellas for summer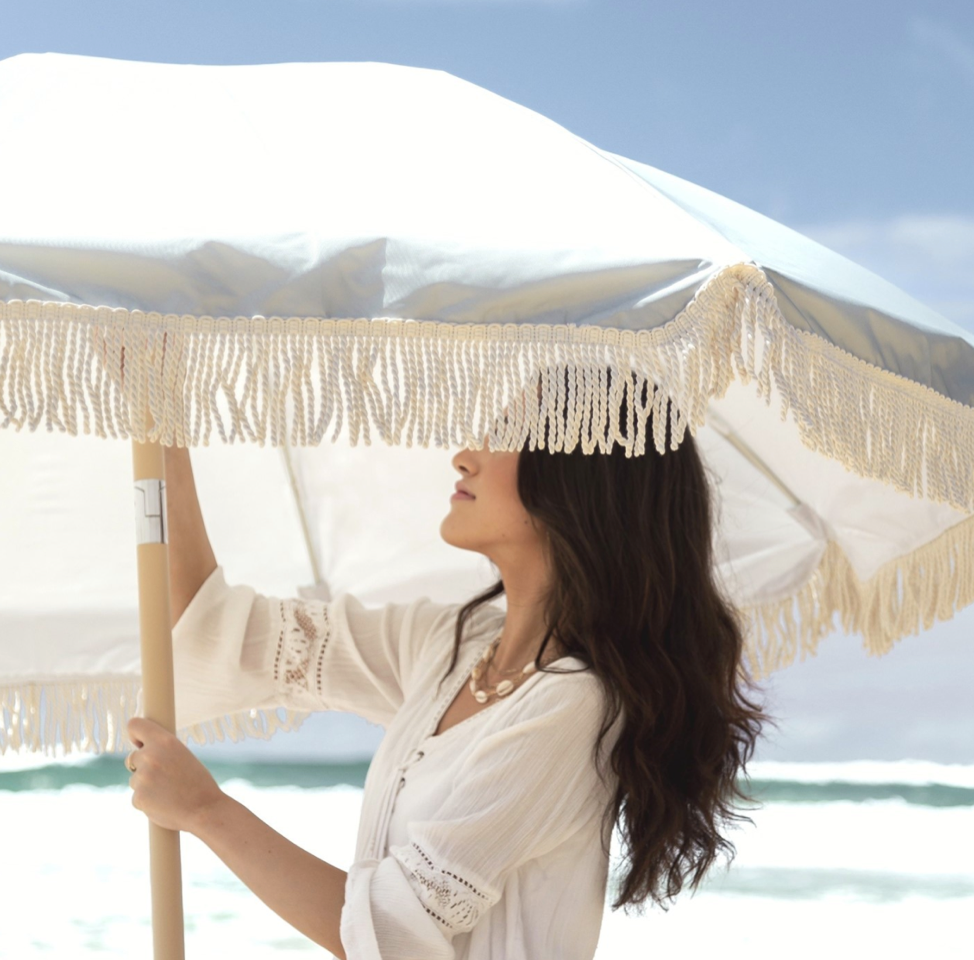 The beach is the ultimate destination to relax with friends and family this summer.
Want to look chic and enjoy relief from the hot sun at every beach visit? A beach umbrella is your secret weapon.
Head to the beach in style this summer - the beach umbrella is an essential seaside accessory that protects you from the sun's harsh rays and provides a refreshing space to relax.
What should I look for when buying a beach umbrella?
The humble beach umbrella has evolved from a flimsy and cheap item you replace every summer to a durable, stylish, and high-quality accessory that lasts.
As such, there are many considerations to make when it comes to finding the right beach umbrella in Australia.
When browsing for beach umbrellas online, consider these elements before you purchase.
The materials the umbrella is made of
The right textiles of an umbrella aren't just about the particular fabrics you want, but it's also noteworthy if the umbrella is made from materials that:
Protect you from the sun's harsh UV rays
Are sourced from recyclable materials
Can be recycled once you want to say farewell
The colours and patterns
Beyond your stock-standard styles, beach umbrellas now come in a huge array of patterns and colours. Whether you love bold and bright or a chic pattern reminiscent of the Italian Riviera, you're truly spoilt for choice.
What is the most sturdy beach umbrella?
The beach is a calm, relaxing, and serene place.
A lot of the time, however, it can be extremely windy, too!
That's why it's so important to choose a sturdy umbrella, purpose-built for the beach, to withstand all the elements that come along with a day out by the sea. Your run-of-the-mill umbrella won't do - look for strong, durable materials such as long timber poles, aluminium components, and UV-resistant fabrics.
What is the best beach umbrella to purchase?
Boatshed7 is bringing the world's best beach umbrellas to your favourite Aussie beach.
With more than 45 beach brands on offer (and counting), we're taking a closer look at some of our favourite beach umbrella brands.
Business & Pleasure
Inspired by vintage umbrellas from the 1950s and 60s, Business & Pleasure umbrellas are set to turn heads on every beach across Australia.
Business & Pleasure uses eco-friendly manufacturing methods to produce these gorgeous sun shades. Their umbrellas are also coated with UV-resistant material for the ultimate protection.
Sunnylife
Sunnylife is a quintessential Aussie brand synonymous with good weather, good times, and good people.
Sunnylife beach umbrellas come with a complimentary carry bag, making them easy to transport to and from the sand.
Their shades are made from UPF50+ material, and the bright, tropical patterns are guaranteed to put a smile on your face and extra spring in your step when you're at the beach.
Land and Sun
Land and Sun was conceived on the Sunshine Coast and was inspired by the tropical climates in Queensland.
Land and Sand beach umbrellas are made with sustainability at the core, with the team passionate about creating long-lasting, high-quality, and eco-friendly beach products.
Backbeach Lane
Backbeach Lane is inspired by years spent on the gorgeous Mornington Peninsula, home to some of Australia's most famous beach towns including Rye, Portsea, Blairgowrie, and Sorrento.
Capture an endless summer with these quintessential striped beach umbrellas, each of which are named for local beaches, including Gunnamatta Gold, St Andrews White, and Portsea Blue.
Bamboo Bungalow
Find your spot on the sand and enjoy your best beach day ever with Bamboo Bungalow. These bright and funky 80s-inspired prints are sure to stand out at the beach!
Klaoos
Klaoos is a French label that creates premium beach umbrellas in a range of stunning colours and patterns.
The fabric of these French umbrellas are ​​made from recycled plastic bottles, while products are produced with particular industrial processes that save on resources and carbon emissions.
Is a beach umbrella or tent better?
Both are a fantastic option to keep you and your friends protected at the beach.
A beach umbrella is a staple for most beach-goers, but for those who find themselves on the sand longer than their own homes during summer, we recommend looking into a practical and durable beach cabana to really level up your beach gear.
Shop stylish and chic beach umbrellas now
Boatshed7 is your leading Australian supplier for any beach equipment to ensure a fantastic day out for you and your family.
In addition to our growing range of beach umbrellas, we have all your other beach essentials, including:
Reef- and eco-friendly sunscreen
Soft, plush beach towels
Bright and colourful beach toys
Strong and durable beach chairs
And so much more
Boatshed7 is your one-stop online beach shop - explore our collections and shop online today!