Best beaches within one hour of Melbourne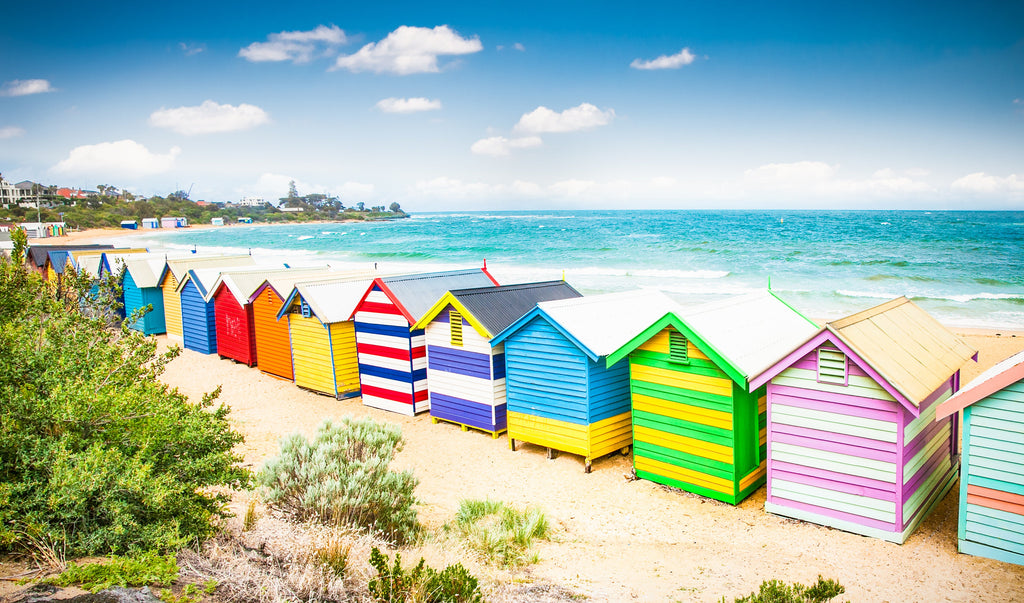 If you've been following our blog over the last couple of weeks, you will have noticed we've developed quite a fondness for sharing our favourite beaches close-by to some of Australia's capital cities.
It's turned into a bit of a blog series, and today, we're adding one more chapter - Melbourne, it's your turn.
Here are some of our favourite beaches - each of which is less than an hour by car from the CBD.
If you'd like to catch up on earlier posts, follow the links below:
Ready, Melbourne? Here we go…
Half Moon Bay
Distance: 20km

Driving time: 35 minutes
Not only is it one of Melbourne's best beaches, but in our humble opinion, it's one of the most fascinating places, too!
In the centre of the bay is the wreck of the HMVS Cerberus - visible from the beach and pier, it acts as a breakwater.
However be aware that it sits within a 0.5 hectare rectangle Protection Zone, so be sure to keep your distance.
The beach itself is calm and sheltered, making it a perfect place to enjoy a day out with the family.
Fill up the beach cooler bag, bring along some beach toys and red paddle ride 10.8.
Chelsea Beach
Distance: 35km

Driving time: 50 minutes
This beautiful beach has it all: clear water, soft sand, and excellent cafes nearby. The sandbank helps to keep the water shallow, making it the perfect place for little ones to splash around. 
It's easily accessible by both car and train, with plenty of parking available, along with Chelsea Station a mere few steps from the beach. 
The jetty is also an ideal vantage point to witness a gorgeous sunset, so be sure to pack a picnic with all your entertainment essentials and stick around for a beautiful end to the day.
Mothers Beach
Distance: 71km

Driving time: 1 hour
Just edging out our time limit, Mothers Beach is a calm, shallow, and clean beach nestled in Mornington. Additionally, there's a fantastic playground close by that the kids will love. 
You're also close-by to Mornington's main shopping strip, the aptly-named Main Street.
Our tip - following the beach, indulge in a delicious pizza from the renowned DOC Pizza & Mozzarella bar.
St Kilda Beach
Distance: 7km

Driving time: 15 minutes
We know, we know - it's a given.
But it would be remiss to skip over arguably Melbourne's most iconic beach.
More than sand and water, this foreshore area also hosts musical festivals, carnivals, and other events throughout the year.
There are also a ton of fantastic restaurants and bars, each offering beautiful views of the water...
Want to splurge? Book a special dinner at Donovan's. 
Drinks with the gang? You'll love Pontoon or Captain Baxter.
Dinner at a trendy restaurant? You can't beat the good old Espy.
Williamstown Beach
Alright, we've spent enough time focused on Bayside - now we're heading to the other end of Port Phillip Bay to explore the best of the west.
Williamstown is a gorgeous little town situated just 15km from Melbourne's CBD.
Look ahead to enjoy endless water views; turn to your left and you're met with stunning views of the city skyline. 
Water surrounds three sides of Williamstown, but today we're focusing on the south-west coastline, where you'll find Williamstown Beach.
Beyond clear water and soft sand, you're also moments from the Williamstown Botanical Gardens as well as a number of cafes, kiosks, and restaurants.
Whether you're a deep sea explorer or someone who prefers to relax in the shallows, Williamstown Beach has the best of both worlds.
Bonus: Whitecliffs Beach, Rye
Distance: 100km

Driving time: 1h 20 minutes
While it might just edge out our 1 hour limit, we couldn't possibly write this blog without including our own local beach (and our happy place): Whitecliffs Beach on the Mornington Peninsula. 
Our home - and the inspiration behind Boatshed7 - is located in the heart of Rye. The Whitecliffs Lookout is not to be missed, while the iconic Rye pier is the perfect place to end an early morning or evening stroll.
Next time to head down the peninsula, we invite you to visit our little slice of paradise. 
What's your favourite Melbourne beach?
We're truly spoilt for choice here in Melbourne. 
And if you venture outside of the metro region and head further down the bay, you'll reach peninsula towns like Dromana, Rosebud, and Blairgowrie… we really could go on and on!
Before we get carried away, we want to hear from you. What's your favourite local beach? What makes it special to you? Let us know over on our Instagram page.