Beach umbrella buying tips: here's what you need to look for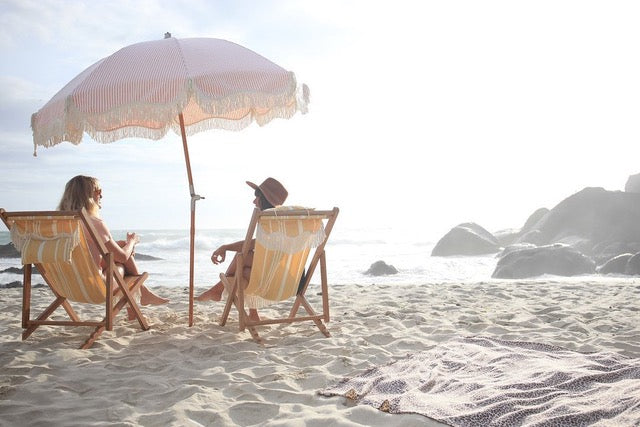 With summer comes a hotter and more powerful sun.
And with that comes stronger UV rays and a bigger need for UV protection measures like sunscreen, a wide-brimmed hat and naturally, a chic beach umbrella.
Of course, not just any old beach umbrella will do - no, if you're going to protect your skin, you'll want to make sure you get the right one that not only offers protection but looks great, too.
Just one question: how do you buy the right beach umbrella?
How do I choose a beach umbrella?
A premium beach umbrella is a mandatory part of your beach kit.
If you ask us, the question to ask yourself isn't "do I need a beach umbrella" - you should be asking what makes for a good beach umbrella?
You'd think that the simple answer would just be "it's big" - the truth of the matter however is that it's a surprisingly complex topic, with many different considerations that you'll need to keep in mind while shopping for beach gear.
Do beach umbrellas block UV rays? And is your umbrella UV-rated?
You'd think that shade equals UV protection. And you'd be right - mostly.
While most beach umbrellas can protect you from UV, many of them (namely, the cheaper ones) cannot block it.
You could spend the entire day under your cheap beach umbrella and still suffer from sun damage or sunburn. 
Another thing to worry about is that UV rays aren't a single homogenous group - instead, there are 3 types of UV: UVA, UVB, and UVC.
Sure, your umbrella might protect you against one type… but what about the other two?
Luckily for you, the umbrellas featured in our online beach shop are broad spectrum UV-rated beach umbrellas.
Each uses special UV-resistant materials and coatings rated against all 3 types of UV light to ensure that all harmful UV is blocked, so you can safely chill in style.
What colour is the best for sun protection?
You probably think a darker colour would be more effective at blocking UV rays.
But did you know that it doesn't actually matter the colour you choose - if your family beach umbrella has UV protection, you've already made a great choice.
Thanks to UV treatments and materials, colour doesn't actually matter - and that means you have the freedom to choose the pattern, colour, and style you want.
Check out our stylish range, including the ever-popular white beach umbrella from Business & Pleasure Co.
What are some of the best beach umbrella brands?
Well, we're a little biased here, but we think our online beach shop stocks the world's best beach umbrella brands.
Why? Because we only choose products and brands that:
Use recycled materials

Are BPA and PVC-free

Feature UV treatments and materials

Are durable and rugged

Have that quality look and feel to them
Our range of beach umbrellas is made up exclusively of quality products from world-famous beach gear brands like Business & Pleasure Co. and French label Klaoos.
Either one of these brands is a win - either brand's umbrellas are fully UV-rated and more importantly, they look fantastic.
It isn't just their appearance that you'll love. We test all of our products for ourselves, putting them through the ringer and getting in touch directly with manufacturers whenever we can.
In short, if we wouldn't buy it for our own beach adventures, we won't stock it.
Your one-stop shop for beach gear in Australia
Beach umbrellas are an important part of any beach ensemble - however, they're just one part of your beach kit.
Whether you're going with the family or heading down with a bunch of mates, you need beach gear that's good quality, durable, and looks fantastic.
Whether you're lucky enough to live by the ocean or are planning a (local) beach holiday this Christmas, the right beach gear is key to enjoying an awesome day by the water.
And with summer fast-approaching, there's never been a better time to start shopping than now!